Kids become history detectives at the New-York Historical Society's DiMenna Children's History Museum, discovering hundreds of years of American history through the eyes of children who came before them. With the right mix of education and innovation, "worth the trip" is an understatement.
Diana DiMenna's experience of learning American history probably sounds familiar: "Nobody gave it to me in the way that it stuck," she recalls. For most of us, the word "history" brings to mind the dull gray-and-brown color scheme of school texts and a series of dates whose meanings now evade us (1492, 1776, 1812...). But the prospect may be different for the next generation: At the new DiMenna Children's History Museum in Manhattan, history is an adventure filled with colorful characters that just happened to have lived a few hundred years ago.
The museum, which opened in November 2011 as part of the New-York Historical Society Museum & Library's three-year, $70 million renovation, presents the past in engaging stories, letting children take charge of their own historical adventure. The goal is to help kids feel like they're a "part of all that has come before them," says DiMenna.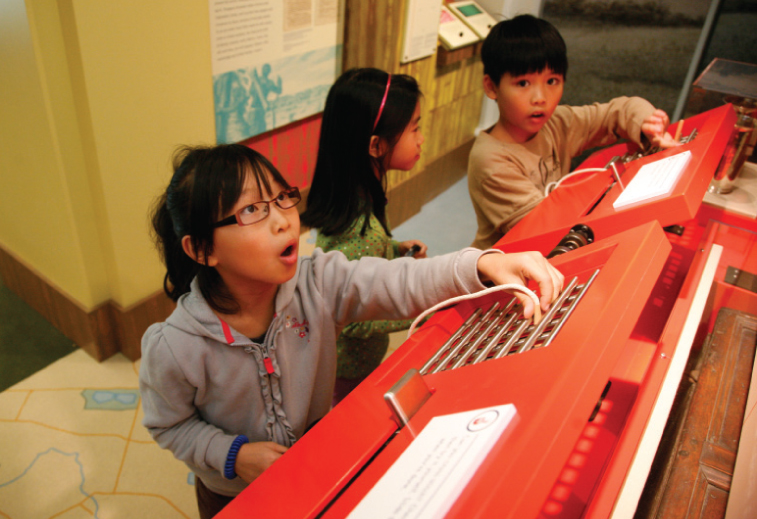 Children practicing their crost-stitching at the Corneilia van Varick pavilion, which spotlights the daugther of Margrieta van Varick, a textle merchant in 17th-century New York. Photo courtesty New-York Historical Society
History at Hand
The 4,000-square-foot museum features exhibits and activities for kids ages 2 to 16 (though the "sweet spot" is about third through fifth grade). New Yorkers and out-of-towners alike should start out by watching New York Story, an 18-minute film, shown throughout the day, narrated by actor Liev Schreiber that features high-tech moveable screens and dynamic music to complement some fast-paced storytelling-the experience will prepare you for the rest of the elements the museum holds in store.
Interactive kiosks throughout the entire building put hundreds of years of history at the fingertips of tech-savvy youngsters. Engaging with the past is as easy as operating an iPad (a skill our kids now seem to be pre-programmed with). A series of biography-based pavilions spotlight the stories of young New Yorkers, like Alexander Hamilton, who lived between the late 17th to early 20th centuries, allowing kids to connect with their counterparts from the past and come to understand history through their eyes.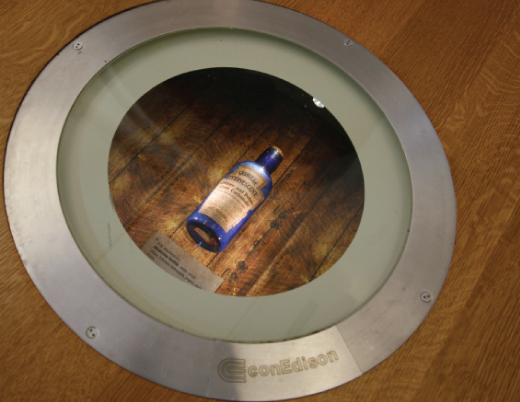 Dispersed throuhout the Smith Gallery, nine manhole-like exhibition cases installed in the floor showcase relics such as arrowheads from the Revolutionary War, a click from the World Trade Center debris, and this medicine bottle from the turn of the 20th century. Photo courtesy Andy Kropa, New-York Historical Society
At "You Are An American Dreamer, Too," visitors can claim their own spot in history alongside other important New Yorkers as their own image is captured for future museum visitors. And get introduced to the "Orphan Train Children," those transported by the Children's Aid Society via train to new homes across the country in the late 19th century.
The museum is filled with touchable objects and interactive games, from analyzing an urban archaeological dig to decoding handwritten documents and examining artifacts.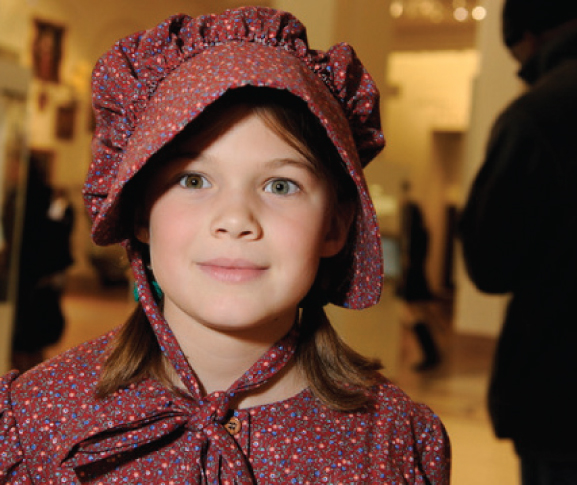 On select "Living History Days," actors portraying Revolutionary heroes appear. This child re-enactor was part of the museum's grand reopening along with actors portraying the first New York Regiment. Photo courtesy New-York Historical Society
Also within the museum is the Barbara K. Lipman Children's History Library, which hosts engaging story hours and lets visitors wander among children's history books, rare books, manuscripts, and maps from the collection.
Details
New-York Historical Society Museum & Library
170 Central Park West at Richard Gilder Way (77th Street), Lower Level, Manhattan
The children's entrance is inviting for young "detectives." Photo courtesy New-York Historical Society
Hours: Tuesday-Thursday and Saturday 10am-6pm; Friday 10am-8pm; Sunday 11am-5pm
Price: $15; $12 seniors and educators; $10 students; $5 children ages 5-13; free for children younger than 5; pay-as-you-wish 6-8pm on Fridays (includes admission to the full New-York Historical Society Museum & Library)
For more information: 212-873-3400; nyhistory.org/childrens-museum. Search for upcoming events in our calendar.