In the past few years, British chefs, from Nigella Lawson to Jamie Oliver, have become popular in the U.S. The latest chef and cookbook author to cross the pond is Annabel Karmel, a mother of three, who has written 12 bestselling books on healthy, child-friendly eating. With her three teens and a panel of child-testers, Karmel has created 150 recipes that focus on speed, health and flavor, in her latest book, Favorite Family Meals (Atria Books, $22.95).
With a nod to the obesity epidemic, some of the recipes are low-fat — like lettuce cups filled with chicken and mango, or shrimp and watercress. The pasta recipes are loaded with vegetables and Karmel has some sneaky ways to add veggies to a kid's diet: potatoes mashed with carrots, or zucchini fritters. There are also tasty vegetarian sausages made with carrot, zucchini and cheese. Of course, if you are making these recipes with your kids, you can't exactly hide the vegetables, but there are so many simple, appealing recipes that even the fussiest eater is sure to find a favorite.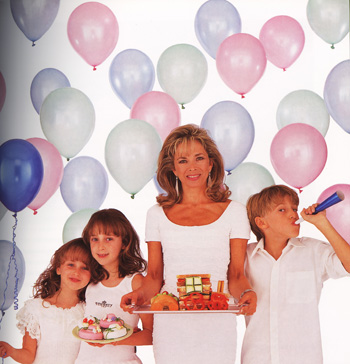 Karmel, who feels that children should not be fed separate meals from adults, got involved in cooking for kids and nutrition after her first child died, and her second child was, she said, 'a bad eater'. Not wanting to lose another child, she made it her mission in life to offer healthy, delicious food to her kids. Her children, Nicholas, Lara and Scarlet, are all adventurous eaters and Karmel credits her insistence on "training them early" to eat well. She notes that when kids are raised on a diet of sweet and salty foods, "it is hard to get them back on track."
This is not to say that the book is a study in deprivation. There are desserts — from cookies and cheesecake to funny face cupcakes. But there are also apple and carrot muffins and berries with hot chocolate sauce — both quick, delicious and healthier than processed fare.
Try her recipe for Perfect Chinese Fried Rice — you will be amazed at how quick it is to prepare, and how much better it tastes than ordinary take-out Chinese:
1 1/4 cups basmati rice
1 small carrot, peeled & finely chopped
3/4 cup frozen peas
1 teaspoon vegetable oil
1 egg, lightly beaten
salt
2 tablespoons butter
1/2 cup finely chopped onion
2 tablespoons soy sauce
Freshly ground black pepper
1 scallion, finely sliced
According to the instructions on the package, cook the rice in 2 1/2 cups of lightly salted boiling water, together with the chopped carrot. Four minutes before the end of the cooking time, add the frozen peas. Meanwhile, heat the vegetable oil in a frying pan or wok, beat the egg together with a little salt, and add to the pan. Tilt the pan so that the egg coats the base, and cook until set as a thin omelet. Remove from the pan, roll up to form a sausage shape, and cut into thin strips. Add the butter to the pan and sauté the onion for about 2 minutes. Add the cooked rice mixture, the soy sauce, and a little freshly ground black pepper. Stir-fry the rice for about 2 minutes. Stir in the strips of egg and the scallion and heat through. Makes 4 servings
Closer to home
Susie Fishbein, a New Jersey mother of four, has a new book, Kosher by Design: Kids in the Kitchen. The colorful book has 80 recipes that kids 10 and up can make, and though they are all Kosher, they can be enjoyed by anyone. The book has more sweets than anything else, but some healthy and kid-friendly recipes not to be missed are the vegetable dumplings and French onion soup.