Kidville
, which has been entertaining and educating the infant to 5-year-old crowd on the Upper East and West Sides, launches September 10 in Park Slope. The 'annex' location will have a selection of offerings from Kidville's core classes, including Little Maestros, Big Muscles for Little Babies, and Run, Wiggle, Paint and Giggle.
Little Maestros is Kidville's signature class, a music class with a live, four-piece band. There is also a 'preschool alternative', Kidville University, a fun class for kids who are not ready for traditional preschool.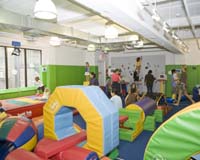 As any kid who's been lucky enough to snag an invite at one of the other locations knows, Kidville runs great birthday parties; these will also be offered in Park Slope. Andy Stenzler, a Kidville-co-founder (with his wife, Shari Misher Stenzler), says one of the reasons Kidville parties are so successful is that they take care of everything, vetting and booking clowns and musicians, ordering cakes and invitations. The aim is for the adult hosts to enjoy themselves as much as the guests. "We want to be responsible for everything," Stenzler says. When Kidville hires outside performers, there is no 'upcharge' to the party host.
   Stenzler says the company prides itself on being responsive to its members, soliciting suggestions for classes, entertainers, and party caterers. And even developing the Park Slope annex. "The single biggest request we had was to open a Park Slope location," says Stenzler, adding that the company is excited about entering one of the "stroller capitals of the world".
   The Kidville founders have also been working with a local group, Park Slope Parents, to develop evening programming for parents. "We are all about being involved in the community" Stenzler explains.
    The Park Slope Kidville will have two 'supersized' classrooms, a theater and a state-of-the art gym. Unlike the original two locations, there is no boutique or café, but members — anyone who signs up for a class is automatically a 'silver' member — get discounts at the other locations. There is a stroller check, and you don't have to fold your stroller, making entering and exiting even more convenient. We try to make it "a little bit easier to be a parent," says Stenzler. Although Kidville is expanding locations (a Tribeca annex also opens September 10; there is going to be a Nevada outpost, where investor Andre Agassi resides; and Kidville is starting to sell franchises), Stenzler says that even when his 4-year-old daughter outgrows Kidville, they will not add programming for older children. "We focus on and are designed for 0-5," he says. Everything from a cleanliness and safety standpoint is geared toward younger children, which Stenzler believes is an advantage over multipurpose facilities that have to retrofit for toddlers.
   Kidville is so committed to cleanliness that each facility has full-time maintenance workers, keeping the place clean throughout the day.

To find out more about Kidville, or register for classes, go to
www.kidville.com
.