KidzTimez is an engaging and educational news site for kids and tweens that offers a well-rounded approach to connecting kids with the world beyond their doorstep.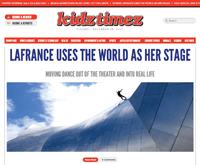 If you've done homework or research with an elementary- or middle-school student lately, you've probably noticed a dearth of "just right" sites for kids. Many are either dry, "educational" sites or inappropriate for the age, comprehension, and interest level of most 8- to 13-year-olds.
Into the void comes KidzTimez.com, an online news source and community platform for kids. KidzTimez provides breaking national and international news stories on science, technology, arts, fashion, entertainment, health, sports, and human interest, all catered to kids. The site features a visually exciting design with bright primary colors, a news ticker that is constantly updating stories, eye-catching photos, and interesting videos.
Young members are encouraged to apply for reporter positions in their areas of interest, and one reporter is featured every week with a short bio and photo.