Some famous parents shelter their kids, but Kimora Lee Simmons, mother of Ming Lee, 6 and Aoki Lee, 4 (and wife of hip-hop mogul/entrepreneur Russell Simmons), embraces the limelight.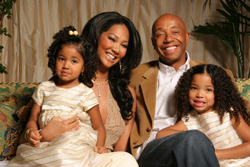 Simmons, who owes her exotic good looks to her Japanese mother and African-American father, started modeling at age 13; by age 17, she was the toast of the Paris catwalks, dubbed by Karl Lagerfeld "the face of the 21st century". It was at 17 that she first met Russell Simmons, who is 18 years her senior; the two married in 1998.

When Russell created the Baby Phat line of clothes, Kimora Lee began making design suggestions and was handed over the reigns of the company. Since then, she has founded KLS Cosmetics, which also includes several fragrances, including Goddess.

But Simmons hasn't stopped there. She is writing a children's book, loosely based on her girls, and is launching a second line of jeans. She is also considering a line of KLS Barbie dolls.

Simmons, who believes "no home is complete without a pool", swims regularly with her girls at family houses in New Jersey, East Hampton and Los Angeles. She says she "dropped" her children in the pool when they were each 5 months old — to get them used to water early.

Despite the fact that Simmons once described her life as "E! True Hollywood Story, without the tragedy", and in 2004 was arrested near her New Jersey home, charged with careless driving and possession of marijuana, among other traffic-related offenses, she describes herself as a 'strict' parent, who limits TV and refined sugar. She also believes in introducing her girls to a wide variety of multicultural experiences. She travels frequently for work, but with her children, — both to be with them, and to expose them to different cultures and lifestyles.

The girls have been to Malaysia (where they had tea with the Queen), Singapore and all over Europe. One of their favorite vacation destinations is St. Barts, where the family spends every winter. Simmons considers travel a way to broaden her daughters' horizons, and notes that studying a foreign language is an important part of their lives. Simmons 'picked up' French and Italian during her modeling career in French and Italian during her modeling days in Europe, and Ming and Aoki study both French and Spanish. But in any country she visits, she makes sure to learn the "bare minimum — how to order food and how to count your change."

With a mind to others with less luxurious lifestyles, Simmons also points out that international travel is not a prerequisite. "Anybody can have access to these mind-broadening experiences," she says. "You can expand your mind even at a local museum or the library." The ability to travel is a gift, she believes, and feels strongly that "when you go abroad, you have to visit the major museums." The family has enjoyed trips to the Tate Modern and Victoria & Albert in London, the Louvre in Paris, and close to home, the Children's Museum of Manhattan and the American Museum of Natural History.

For a self-described "hip-hop girl at heart", she insists she is also really 'old-fashioned', restricting the girls to at most one hour of television a week ("educational TV", she adds), and G-rated movies. "It's important to monitor across the board, in the media, what information your children are absorbing." That said, she finds the image Barbie dolls promote to be "wholesome, aspirational, and family-oriented — she's a winner with me." She cites international Barbies and the diversity of Barbie careers as appropriate toys.

Aoki's recent birthday party raised money for a children's charity because Simmons feels that "to whom much is given, much is expected." But, she adds, "at the end of the day, they are just regular kids" — who occasionally get to take a bow with their mom on the runway.