A sport that's been growing steadily in popularity over the past few years, especially in the New York metro area, youth lacrosse has a wide appeal and boasts many benefits for children.
Lacrosse has long been a popular sport in Long Island's Nassau and Suffolk counties, but in recent years, its popularity has grown throughout the New York Metro area. U.S. Lacrosse, the governing body of lacrosse in the United States, reports that in the last year alone the sport's participation rate grew by 8.4 percent, with 12.1 percent of that growth at the youth level. Since 2001, participation in the sport has more than doubled, from 253,931 participants to 568,021 players in 2009.
"It seems like only yesterday when it was out of the ordinary to see a lacrosse stick in one's hands, so much so that most adults didn't even know what the stick was used for much less anything about the game," says Craig Scialdone, the girls lacrosse director for WestRock Lacrosse in Westchester County. "Over the last 10 years, the attitude toward lacrosse has changed dramatically."
Lacrosse, which is often compared to soccer because of its strategy and fitness benefits, is a team sport that involves passing a solid rubber ball downfield from player to player using a lacrosse stick. Each lacrosse stick has a loose mesh end designed to catch and hold the lacrosse ball. Once players have moved into their opponent's section of the field, they attempt to score by shooting the ball into their opponent's goal. As in soccer, a goalie and other defenders will try to block the offensive team's shot. Traditionally, the regular lacrosse season starts in the spring. However, the growth of the sport has caused numerous travel teams that play yearround to crop up in the New York metro area. Camps and clinics are also offered throughout the year.
"What was a seasonal sport for few has become a yearround way of life for many," Scialdone says.
The Appeal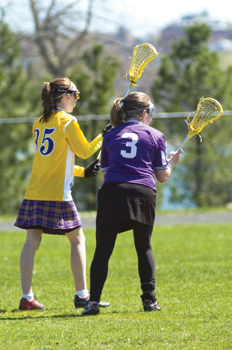 Coaches and parents of lacrosse players aren't surprised that the sport is catching on. Lacrosse is incredibly accessible and involves little equipment. There are modifications such as soft sticks, which allow players to catch and throw the ball more easily, that make it possible for children as young as 4 or 5 to participate. Many parents are becoming more familiar with the sport, too.
"The culture that has been created is a direct result of today's youth having at least one or possibly both parents who were exposed to lacrosse," Scialdone asys. "Additionally, younger siblings who have older brothers or sisters playing want to get involved with the sport as well."
Suzanne Beck knew nothing about lacrosse when her son Bradley, now 11, first started playing on Oyster Bay's inaugural team several years ago. His parents wanted him to participate in an active sport. They feared that if he chose to play baseball, he'd spend too much time standing around waiting to play, and the other sports options just weren't as appealing to them.
They have never regretted their choice. They will enroll their daughter in a lacrosse program when she is old enough to participate.
"We are very proud of him," Suzanne Beck says. "He has his stick in his hands every chance he can. As long as he continues to love the sport, we will continue to encourage him to play."
Andrew Haubner, who has played lacrosse for about 10 years, was attracted to lacrosse because of its strategic, fast-moving nature. He also liked that rough-and-tumble nature of the sport and the skills he would be required to master to excel within the sport's structure.
His mother, Patricia, was thrilled when he announced that he wanted to play lacrosse and enjoys attending games and even the tail-end of practices to watch her son's development.
"Even early on, the boys looked like they had some level of skill," Patricia Haubner recalls. "It's got just enough physical contact to be exciting and appealing to the boys, but for some reason isn't as threatening as football."
Beyond the Playing Field
Lacrosse isn't just for children who want to stay active. It can be a great way to learn more about teamwork, build self-confidence, and meet people. On the field, the athletes are forced to work together and take more leadership responsibilities because coaches can't always call plays from the sidelines. Those who compete on travel teams also have to be willing to make sacrifices, rearrange schedules, and adjust to more demanding athletic requirements. Many coaches believe these skills carry over to the rest of the athletes' lives. Children who are on elite teams will also have teammates from other schools.
"When you're on the road traveling as a group, you develop a distinct bond that transcends beyond the games," Scialdone says. "As the sport continues to grow outside of the northeast and more opportunities open up for youth players across the country, mainstream America will experience the culture that has taken over our area in recent years."
Also see: The Rise of Lacrosse on Long Island
Our After-School Activities Guide to the New York metro area, for sports facilities and programs