Scholastic Parent & Child Magazine calls Loukoumi's Celebrity Cookbook "one of the best new parenting books." As part of Cyber Monday, you can order the book today for a discounted price of $12.96, regularly $19.95. A minimum of $2 will go to St. Jude's Children Research Hospital and Chefs for Humanity.
In Loukoumi's Celebrity Cookbook, Loukoumi and her friends Dean the dog, Marika the monkey and Fistiki the cat are playing happily when they become hungry. At Loukoumi's home they discover Fistiki's Aunt Cat Cora, a character based on celebrity chef, restaurateur, and cookbook author Cat Cora, the first and only female Iron Chef, and president and founder of Chefs for Humanity, which works to reduce hunger around the world. Aunt Cat offers to help them make her childhood favorite dish, Grandma's Special Cream Cheese Cake.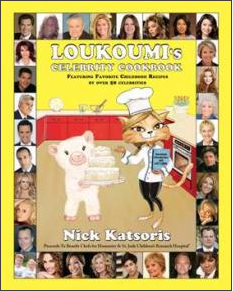 The story continues as Aunt Cat guides the friends in gathering and measuring ingredients and preparing them for the oven, all the while sharing child-friendly safety tips.

The cookbook is divided into Weekend Breakfasts, Lunchtime Favorites, After-School Snacks, Family Meals, and Delicious Desserts--all recipes from celebrities, including Rachel Ray, Ellen DeGeneres, Beyonce, Taylor Swift, Neil Patrick Harris, Faith Hill, and many more.
As part of Cyber Monday, order the book on Amazon or Barnes & Noble at the discounted price of $12.96, a 35% discount on the regular price.
Loukoumi's Celebrity Cookbook Contest
Children ages 4 to 12 are invited to submit their favorite recipes to Loukoumi's Secret Ingredient Recipe Contest now through March 1, 2012 for a chance to cook their favorite recipe with celebrity chef Cat Cora.
Just complete the statement: "______ (recipe name) is my favorite childhood recipe because __________ (in 10 words or less)."
Download the contest form here. Then, return completed forms to [email protected] or mail them to:
NK Publications
P.O. Box 1735 Radio City Station
New York, NY 10101