Many parents enroll their children in afterschool programs, whether they work outside or inside the home. Some, especially those who are at the office full time, prefer their children to be engaged in enriching activities than at home on their own. Others take advantage of classes that expose their kids to subjects they don't learn in school. Still others consider such classes as social opportunities, or act on the wishes of their children to be involved in programs with their friends. We talked to Big Apple parents about the reasons for their afterschool choices.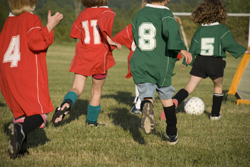 Convenience is an important factor when making the choice. "We didn't really investigate a lot of programs," admits Mike Lee, whose daughter is a second-grader at the 92nd Street Y. He described their choice as "a great program for us because it's three hours a day and they have a walking service.  We both work, so we need that."

   Some parents look to replace what's missing in the school curriculum.  Alice Horgan of Manhattan notes that, "NYC kids aren't exposed to crafting the way country kids are.  A jewelry-making afterschool class my daughter did at age 10 gave her the opportunity to create with her hands and to understand craftsmanship. She loved that class!"  

   Two other city kids who loved their afterschool activities are the son and daughter of Manhattan mom Kathy Morgenstern.  Her son took gymnastics at Circus Gym, where, says Morgenstern, "He bounced everywhere, climbed a rock wall, zipped across on a zip wire, and wanted every day to be Tuesday!"  She said her daughter so loved her ballet class at Steps that she would wait by the door till her parents got home so she could show them what she'd learned. "Both places have wonderful instructors on staff who really love what they do. That makes it so easy to feel comfortable dropping them off there, especially seeing their faces later when they show us what they've accomplished," Morgenstern adds.

   Horgan cautions against too much emphasis on learning in such activities, however.  "When my daughter began piano at age 6, the teacher asked her: 'Why do you want to learn to play?'  She responded: 'Because I love piano!'  The teacher told us he always asks this question of new students; he wants to know which kids are coming to the instrument because they want to, not because they're being forced to it by their parents.  We knew then that we'd chosen the right teacher."

   Brooklyn dad Jeff Keenan favors the smorgasbord approach to afterschool programs, allowing his two children, ages 8 and 10, to choose from the rich offerings in their Park Slope neighborhood.  "Why stick to one program exclusively when there are so many great venues to choose from?" he says.

   On the other hand, sometimes it makes more sense to stick with a single venue, particularly if your child's school runs its own afterschool program.  This was Belle Shay's experience in Forest Hills, Queens.  Her daughter's parochial school offered a program "that was convenient (a simple walk downstairs) and reasonably priced," Shay explains. "I knew the staff — teachers from the school — and it ensured that my daughter would take care of doing her homework promptly after school, not to mention being in a safe environment. Once she hit sixth grade, she was old enough (and we live close enough) that I felt comfortable letting walk home with her friends."

   But even the middle school set can benefit from afterschool activities. Keenan, who says he regularly passes middle schoolers walking home unescorted, warns that parents need to make sure their older children are occupied and not 'left to their own devices' for the hours between school and parents' homecoming.