When Alissa Torres was seven-and-a-half months pregnant, her husband, Eddie, started a new job at the World Trade Center.  His second, and final, day was September 11, 2001.  Widowed, Torres went on to give birth to the couple's son, Joshua.
   In addition to raising her child, Torres has become a writer.  Her personal essay, "The Reluctant Icon", is used in college textbooks and has been adapted for theater.  Her graphic novel, American Widow, comes out this year.  
  Torres was recently honored with the Embrace Life Award, which recognizes the power and strength of women.  It is presented annually by State Farm, to five women who have lost a spouse.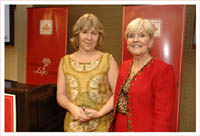 The award includes a stipend of $10,000, with which Torres hopes to pursue her husband's dream of reaching out to troubled teens. She also plans to teach children affected by trauma how to use creative expression to alleviate their sorrows.
   State Farm offers tips on how to embrace life after a loss:
• Give yourself time to grieve, but find reasons to get out of bed. If you have children, they'll be counting on you. You'll probably always feel the loss, but it's important to find ways to begin living life again. Focus on taking small steps each day.
• Don't be afraid to ask for help. Turning to friends, family or clergy for support actually shows your strength. Remember, your loved ones want to help, even if they're not sure what to do. If they ask, give them lists. Even simple tasks can help them feel useful and take the burden off you.
• You might feel completely tapped out, but giving to others can be therapeutic. Find ways to help make a difference in your community. Read to children, volunteer in a hospital or pet rescue organization. You might be surprised at how giving back to others can help you nurture yourself.
• Honor your loved one. Whether it's starting a scholarship or creating a memorial in their loved one's honor, or just telling stories to your children, finding ways to remember your loved one will help you move on and keep their spirit alive.