The death of a parent can leave families in financial turmoil. Read our tips for selecting a life insurance plan that's right for your family.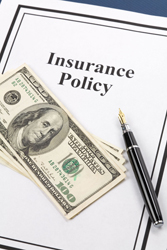 All parents know there are some things you just have to buy, no matter how tight your family's budget: baby wipes, a stroller, bike helmets for your kids. But there's one item that many of us prefer not to think about: life insurance.
Life insurance is a tough topic. Just considering it means contemplating your mortality and the idea of not being around for your children. Also, as an expenditure, it is a strange one-you shell out money for years, hoping that your family will never get any financial return. This may explain why many families have no coverage, or rely on coverage provided by their employers which may only offer benefits of two or three times their annual salary-not enough to meet a family's long-term needs.
According to 2004 figures, the average American family is underinsured by more than $300,000. In the event of the death of a parent, being under- or uninsured can leave families struggling, not only with their bereavement and loss, but with financial upheaval as well. According to Kevin Rodney, a Brokerage Manager at Long Island firm Lipset & Associates, this could include having to move out a comfortable home into a more modest neighborhood and perhaps new schools for the children.
"It's very, very important for parents to have life insurance," Rodney argues. "Should the breadwinner die, you're stuck in a difficult situation, especially if just one person was bringing in the income instead of two."
Despite the financial pinch many families are feeling, now is a great time to get coverage. Prices for term-life policies have dropped steadily in recent years, partly due to increased competition and lower mortality rates. Although Rodney detects a slight upward trend, costs are still far lower than they were a decade ago.
So how do you go about choosing life insurance? If you've been shying away because you think it's complicated, you're right! But here are some basic steps:
1. Ask what kind of policy you need: term, universal, or whole life. Term offers coverage for a specific period of time-until your children are grown and earning, for instance-and is generally less expensive than universal or whole life. Universal and whole life are permanent forms of insurance, which remain in effect all your life, and which you can benefit during your lifetime as some of your money goes into a "savings account" that you can borrow against or cash in.
2. Shop around. Be glad you live in the age of the Internet, when there are online tools that allow you to see quotes from about 12 different companies at once: accuquote.com or netquote.com. But don't just look at price: assess the financial health of the carriers so that you can be confident that they'll pay up in the event of a claim way down the road. You can do this by using consumer reports or by checking their ratings (given by analysts like A.M. Best at ambest.com).
3. Determine how much coverage you need. One rule of thumb is 7-10 times your income. Take into account your various expenses, debts, and any government benefits your family would receive in the event of a loss. Don't forget that stay-at-home moms or dads should also be insured. They contribute to the family budget in the form of childcare costs avoided, etc.
At Kiplinger.com, you can input your income and expenses into an Insurance Calculator to help you assess how much coverage you should have. For single parents, having adequate life insurance cover is especially crucial. In her book Head of Household, Kara Stefan points out that single parents may have to pay for additional coverage as they have no income-earning partner to care for their kids once they're gone, and the insurance money will be used to help raise them.
Once you've finished this lengthy process and your insurance policy is in effect, don't forget to talk to your beneficiary about it. Whether it's your partner, a friend, or relative who would become your children's guardian and manage their funds if they were minors, make sure that person knows what type of coverage you have, what the amount of coverage is, and where your documentation can be found.
Then go out, treat yourself to a raw beet-and-kale juice smoothie, and remind yourself that life expectancy is on the rise.
Kirsten Denker is a freelance writer and mother of two living in Park Slope, Brooklyn.