Most people dread the thought of a house renovation. But Bedford Hills mom of three,
Susie Vallon
, relishes such challenges. It helps that the houses are brought to her and require small-scale reconstruction.    
   Vallon is the new owner of
Whimsies Dollhouse Shop
in Greenwich, CT, a full-service dollhouse wondershop, with custom designed dollhouses, renovations, decorating services and all the trimmings.  Customers young and old can dream of the Victorian houses with wraparound porches, the rustic log cabins, and the Georgian Colonials. Dollhouses can be wired for lighting and outfitted with exquisite miniature replicas.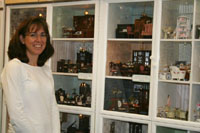 "We spend a lot time with mother/daughter, grandmother/granddaughter, aunt/niece couples, helping them design, decorate, and furnish a house as a special activity that they've undertaken together," says Vallon.  Once a dad came in, gave Vallon and her assistant Kaysie Magtibay absolute creative freedom, and then left to do some shopping. He came back several hours later to a completely finished and furnished dollhouse for his daughter.  
   Around the holidays, moms will buy a special gift to give to their child for their dollhouse for each night of Hanukkah. Others will create a Christmas Advent Calendar, with a different piece for each day of December.  
   Daughters, Emma, 8, Margaux Rose, 6, and Colette, 4, have their own roles in the shop.  They organize the display cabinets, help unload when new inventory arrives, and even get to "practice their numbers" by filling out price tags.  Says Vallon, "So often I spend more time coming up with ways for them to help me than it would take me to simply do it myself. But I want to make them feel that they are a part of this and the shop is our store, not only Mama's store."
   And Whimsies receives frequent "house calls" — the owner will typically bring a dollhouse into the shop where Vallon and Magtibay will work their charms.  At any given time, they can be working on three or four houses, each taking a period of two to three weeks to complete — or longer if furnishings need to be specially ordered.  They are currently renovating a wonderful old house that was ravaged in the Rye floods this past year. Vallon notes, "This is also a hobby which creates special memories during childhood and a priceless heirloom to pass onto one's children, grandchildren, nieces.  Much of our work in the shop is renovating dollhouses from someone's childhood that they now, some 30 or 40 years later, would like to pass on to someone else."    
   Surrounded by lovely miniatures, or working on a painstakingly detailed renovation, Vallon never loses sight of why she undertook the project in the first place.   She remembers, "When I was living in Manhattan and pregnant with my third child, we decided we needed a backyard complete with sandbox, swingset and trees, so we moved out of the city to Bedford Hills."  The commute was more than she expected.  Faced with missing out on precious time with her three daughters, Vallon, a corporate finance attorney, gave her notice and began looking into businesses doing children's parties.  It was her husband who happened upon the "For Sale" ad for Whimsies.  "He knew I had an interest in dollhouses because he had witnessed my entire renovation of my own dollhouse, which I undertook during my second and third years of law school as a sort of destressor."  One look at the shop and it was love at first sight.  
   Vallon has even managed to incorporate birthday parties as well.  The most popular are the tea parties — young birthday girls get to choose from a Royal Princess Tea Party, an Oo La La Pink Poodle Party, and a Magical Fairy Tea Party, all inspired by her daughters.  The tea parties max out at 10, creating an intimate atmosphere for the princess and her guests.  The birthday girl is treated like royalty as the children dress up as princesses, complete with royal gown and jewels, create an appropriately-themed project, and participate in an optional make-up session to "enhance their noble beauty before tea." Each party includes stuff-a-bear, where the guests choose an animal or doll to stuff and dress and take home.  Parties range in price from $450 to $575 for 10 children.
   Next on the agenda?  How-to clinics!
   Whimsies Dollhouse Shop is located at 18 Lewis Street in Greenwich, CT.  Hours are Tuesday through Saturday, from 10am-6pm.  Phone: (203) 629-8024.