If your backpack-lugging child looked like Quasimodo last year and has no plans to lighten his load this school year, there will be little comfort in the knowledge that half of all students who sling backpacks over their shoulders carry twice the recommended weight on their backs, according to spine specialists.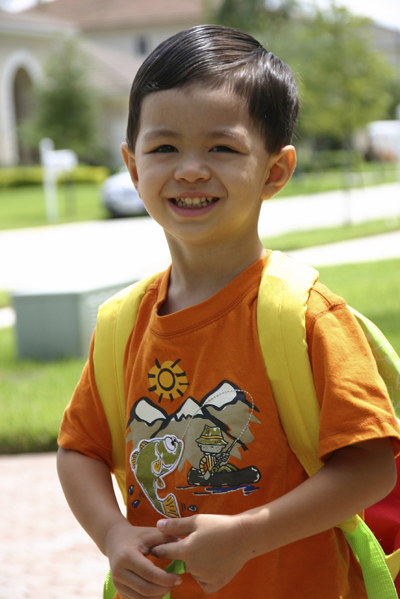 Improperly used and overloaded backpacks can lead to painful neck and back problems that can last a lifetime, warns the North American Spine Society (NASS). According to a survey of spine specialists nationwide conducted by NASS, 43 percent of NASS members have treated children or teens suffering from back pain or spine trauma caused by overloaded or improperly used backpacks. Their diagnoses range from cervical, thoracic and lumbar strain to spondylolysis, a stress fracture in one of the vertebrae that make up the spinal column.

Choosing a backpack
Thirty-two percent of spine specialists surveyed recommend kids use a backpack on wheels — particularly if the student has pain/ache symptoms or if they're carrying more than 25 pounds. Backpacks on wheels just aren't cool however, as most kids will attest, loudly. So, spine specialists say, if the child must carry a traditional style backpack, make sure it has two thick, padded straps along with a waist strap for added lumbar support. Students should never wear their backpacks slung over just one shoulder — no matter how "uncool" it seems to wear both straps.


NASS members also urge parents not to buy the first backpack they see. It's important to make sure the backpack feels comfortable to the child and that the straps can be adjusted for a tight fit.


Whatever backpack style you agree on, it's important to remember it's what's inside that really counts! In fact, 64 percent of the specialists surveyed claim that overloading the pack is the number one way children and teens improperly use their backpacks. All the doctors surveyed agreed that the size of the pack should be proportionate to the child, not to the size of the items he will be carrying. The smaller the volume of the pack, the less it can be overloaded.

Wearing and using a backpack
The spine specialists urge parents to impart these tips to their children:

—Pack only what you need! The pack should weigh no more than 10-15 percent of the child's body weight. As a general rule, backpacks should weigh approximately five to 10 pounds for elementary students. For older children, they should weigh no more than 15 pounds.

—Be Organized. Organize the pack so all the heavy items are closest to your back. Use the smaller compartments to help store loose items and distribute the weight evenly.

—Check Your Straps. Always use both straps and adjust them snuggly on your shoulders. Also readjust the straps every time it's loaded to make sure the weight is properly supported.


—Don't Overload. Don't carry more than you can handle. Make frequent stops to unload the pack. Encourage your child not to carry all the books they will need for the day and urge them to clean out their backpacks at night and remove unnecessary items.

—Educate Your Kids. As children get older and the homework level increases, so does the weight of their backpacks. Make sure to educate your kids about the real risk of neck or spine injury.

Last-resort strategies
If you're concerned about the heavy school loads your children/teens are carrying on a daily basis:

—Contact the school and work with teachers to identify ways to lighten the load.

—Purchase two sets of books — one set for home and the other to be left at school (another cost-effective option is to make photo copies of the week's book chapters at the library).

—Encourage children to practice proper posture while wearing a backpack. Kids should also be active and strengthen the muscles in and around the back and neck to protect and aid in injury prevention.

NASS president, Dr. Joel Press, medical director at the Rehabilitation Institute of Chicago's Spine and Sports Rehabilitation Center, adds, "Parents should ask their children if they feel any pain in the back or the neck. And, if a child is experiencing discomfort in their neck or back or tingling in their hands, be sure to take it seriously and see a speciali 

For more information on backpack injury prevention, and other spine related topics, visit www.spine.org.