LIMIT YOUR KID'S SUGAR HIGH AT HALLOWEEN WITH THIS TASTY TREAT
Related:
kids and sugar
,
sugar high
,
sugar
,
kids
,
candy
,
sugary candy
,
limiting candy
,
limiting sugar at Halloween
,
Halloween
,
Halloween candy
,
kids and Halloween
,
treat
,
sugary treat
,
trick-or-treat
,
candy treat
,
With goodie-filled Halloween parties and a night of trick-or-treating for candy, its easy to forget how much is too much sugar for kids. While the recommended intake is no more than about 3 teaspoons per day for children, the average kid may wolf down some 15 to 40 teaspoons of sugar on Halloween night. Help limit your child's sugar high with this tasty (low sugar) treat from Honeydrop.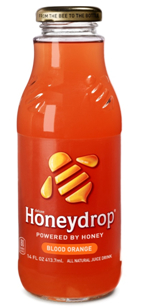 Honeydrop offers a low-calorie line of fresh brewed teas and juices that are made with a tablespoon of pure honey. The Blood Orange Honeydrop beverage has the perfect festive flavor for Halloween, without any refined or artificial sweeteners. The drink is also caffeine free and packed with antioxidants and Vitamin C. For more information or to find a retailer nearby to purchase some bottles for your Halloween party, visit www.honeydrop.com.
More PRODUCTS Articles
Holiday Fashions for Boys and Girls
Photographer Behind Humans of New York Releases Children's Book
New Book Encourages Kids to Give Up Halloween Candy
Runnin' Wild Kids Shoes Owner Opens Toy Store
Top 10 Audiobooks for Halloween Season