Related: children, kids, Safe Listening Coalition of Musicians, personal audio technology, listener, volume, ear buds, portable music player ,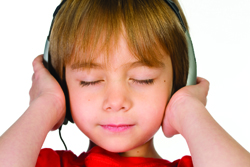 A new study by the European Union finds that "listening to personal music players at high volume over a sustained period can lead to permanent hearing damage." In response, the American Speech-Language-Hearing Association, a national organization of hearing specialists and scientists, and the Parents' Choice Foundation formed the Safe Listening Coalition of Musicians, a national group of musicians popular with young children, to promote safe usage of personal audio technology. They advise listeners: keep the volume down (a good guide is half volume), limit listening time, and upgrade ear buds (which sit inside the ear and often come with portable music players) to "noise canceling" earphones. For more info: www.listentoyourbuds.com.
---
Get Your FREE Indoor Activity eGuide!
---
More Family Health/Fitness/Safety Articles
Wanderlust Yoga In The City Offers a One-Day Yoga, Music, and Community Event in NYC
"Roll Model" Campaign During National Bike Safety Month Helps Parents Put the Brakes on Child Bike Fatalities
Travel Tips: Food Safety On the Road
Yale Fertility Center Opens in Westport, CT
Lice Removal Services in New York City

Be a good fellow parent and share this with a friend who would be interested
Local Family Health/Fitness/Safety Sponsors
See Our Family Health/Fitness/Safety Directory