Related: children, kids, New York City, Museum, police officer, investigate,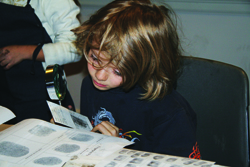 What does it take to be a police officer? Little ones who love to investigate can find out by signing up for the Junior Police Academy at the New York City Police Museum during their winter break from school. They'll take part in hands-on activities including solving a mystery, building a police vehicle, making a shoebox exhibit, and more. Pre-registration required. Ages 5-10. $10 per day. February 16-20. 1-3pm. The New York City Police Museum, 100 Old Slip. 212 380-4100. www.nycpolicmuseum.org. 
---
Get Your FREE Indoor Activity eGuide!
---
More Education Articles
How to Prevent a Homework Meltdown
Literacy Resources in the New York Metro Area
Literacy Resources in Nassau County, Long Island
Literacy Resources in Suffolk County, Long Island
Literacy Resources in Queens

Be a good fellow parent and share this with a friend who would be interested
Local Education Sponsors
See Our Education Directory