"Brown Eyed Girl" and "Yellow Submarine" are not just classics of yesteryear anymore. The founders of Little Rockers – Cool Kid's Music Classes teach these tunes and more at classes in New York City where they educate and rock out with kids and parents.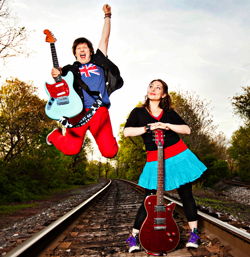 Chris and Jessie Apple both say they have always had a passion for teaching music. As soon as they met and began collaborating, they knew bigger projects would soon take off. In 2009 they founded Little Rockers, a program they say offers a refreshing twist to music classes for kids.
After successfully spreading rock culture to kids in New Jersey, the Apples are bringing Little Rockers to New York City. Their program focuses on the fundamental building blocks of "kindie" rock education while bonding families through popular music.
There's more to it than switching up traditional music education. "One of the most important things about kids is that their parents are their best teachers," Chris says. "When they see their parents having a good time, kids are more likely to be excited about the music." Apprehensive parents can appreciate the program as well: "A lot of dads can't believe they're at a music class," Chris says, but with familiar tunes and bass guitars thrown into the mix, the staff at Little Rockers sees that shyness disappears quickly.
Little Rockers offers three classes: Tot Rock, Rock N' Me, and I Wanna Rock. The spring session starts April 8.