Once you announce you're expecting, everyone becomes an expert. Your mother explains how great her C-section was under general anesthesia.  Your best friend raves about a drug-free, all natural birth.  Your cousin insists you look into hypnosis and water birthing.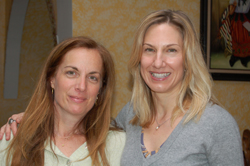 If you need help sifting through all the birth information out there and finding your own way of thinking about your birth experience, Jackie Frederick-Berner's book, The Birth That's Right for You (McGraw Hill, $14.95) is a wonderful guide.  Its aim, says author Frederick-Berner, is to help an expectant mom "figure out her unique approach that she personally needs to feel respected, safe and supported in childbirth."
   Frederick-Berner, a Rye mom of two, wrote the book with Dr. Amen Ness, former chairman of the OB/GYN Department at Greenwich Hospital in Greenwich, CT and now Medical Director of the Perinatal Diagnostics Center at Salinas Valley Memorial Hospital and Clinical Assistant Professor at Stanford University in California.  Her second collaborator was Lisa Gould Rubin, a certified childbirth educator/doula in South Salem, NY. Rubin is also the founder of The Good Birth Company, which supports women through all aspects of pregnancy and childbirth.  Both Dr. Ness and Rubin have worked in their respective fields for over 20 years.
   The book that started it all was originally intended to be a video.  Frederick-Berner and Gould Rubin had been "dear friends" for many years; Rubin was even present at the birth of Frederick-Berner's now elementary-aged son. Frederick-Berner had been an award-winning video producer, producing corporate and special-interest videos for over 20 years. The friends began thinking about a video focusing on Rubin's doula experiences and methods for helping a woman choose her own birth experience. Rubin had worked with Dr. Ness in deliveries and was impressed that he shared a similar birth philosophy.  He agreed to provide the medical expertise. But as the project moved along, it became clear that a book would be the best way to get the information to the widest audience.
   According to the authors, their birth method is your method. "The book helps you figure out your best way to give birth," says Frederick-Berner.  Instead of trying to fit you into a birthing method that doesn't take into account the kind of woman you are, they show you how to have a labor and delivery that does.  Using numerous questions as tools, the book helps figure out what makes you more comfortable in your own life when you are stressed (a warm bath, pain medications, music) and then shows you how those same measures will make you comfortable during birth.  For instance, a woman who takes a bath at the end of a stressful day might realize that she would enjoy using water (shower, tub or Jacuzzi) at her birth.  A woman who wants a drug-free birth, but is constantly popping Advil at the slightest twinge of pain, might acknowledge the benefits of pain medication during her birth experience.
   The authors talk to women in a real voice, encouraging "self knowledge" — telling readers that it's OK to be themselves when deciding how to manage their child's pregnancy and birth.  It is a clear voice, one that explains difficult concepts in a coherent way. The authors address: how to choose a support system in labor, how to choose where to give birth, how to choose whether to use medication, how to figure out how you deal with stress, what to do when your labor does not go as planned, and how to deal with the pressures of new motherhood.
   As a mother who experienced C-sections for both of my children, if I pick up most books on childbirth, it is easy to feel judged.  But one of the greatest strengths of The Birth That's Right For You is its ability to reach all women with no angle or bias. As Frederick-Berner says, "We don't preach."  She adds, "There is no one right way to have a baby."