You may know that on May 18 the New York Mets trounced the Washington Nationals at Citi Field (shutting the Nats out 3-0). But for many in the stands that night, there was more to celebrate than a home team victory. It was also Long Island Disability Awareness Night, an event that honored the contributions of local individuals living with disabilities along with their families and caregivers.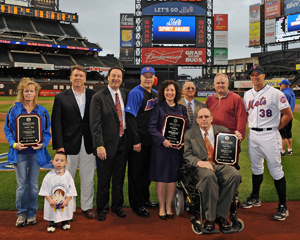 Left to right: Honoree Debbie Metz and grandson Kyle Meier; Jeffrey Silverman, director, Special Needs Planning, Center for Wealth Preservation; Mitchell Weisbrot, special needs planner, Center for Wealth Preservation; Darrin Gitlitz with wife and honoree Cheryl Gitlitz; Thomas Cammisa, special needs planner, Center for Wealth Preservation; honoree Paul Tobin; Christopher Jones, managing director, Center for Wealth Preservation; NY Mets player Christopher Capuano
This year marks the ninth year of Exceptional Parent (EP) magazine's Disability Awareness Night program, which began in 2002 with the mission to honor the 54 million Americans nationwide living with disabilities. The program is now a staple in many sporting venues across the country, with about 40 annual events.
The event at Citi Field provided an opportunity for many clients and staff of local disability organizations to attend the ballgame, thanks to tickets donated by EP and the Center for Wealth Preservation (a general agency of Massachusetts Mutual Life Insurance Company). Additionally, the annual EP Maxwell J. Schleifer Distinguished Service Awards (named for the magazine's late founder) were distributed at a pre-game ceremony at home plate to three local honorees who help people with disabilities live dignified and fulfilling lives:
- Debbie Metz, founder and commissioner of Kyle Sports for Special Needs Program, a nonprofit community sports organization that allows children ages 5 to 16 with special needs to engage in stress-free play in a "barrier-free" environment.
- Cheryl Gitlitz, transitional coordinator for the Bellmore-Merrick Central High School District, who helps create innovative, award-winning programs that help high school seniors with disabilities prepare for life after graduation.
- Paul Tobin, executive director of United Spinal, a United States Navy veteran, and Long Island native, who created VETSFIRST, a service organization for military veterans designed specifically around the ever-evolving needs of disabled veterans returning from service in Iraq and Afghanistan.