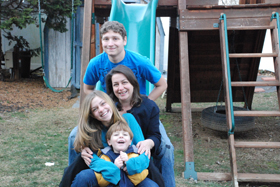 Lights! Camera! Action! Live it Up!, a weekly hour-long television show, isn't just another talk show-it's more like a visit with old friends, lighting up the airways of the tristate area of New York, New Jersey, and Connecticut. This action-packed show features inspirational stories and guests who provide helpful information and resources, and is filled with positive messages of hope and motivation to empower both men and women. "It's that extra boost we all need on occasion when we get stuck," explains Donna Drake, executive producer, founder, and co-host of the show.
On a cold December night in 2008, Drake awoke from a dream with delight and purpose. "I dreamt the entire show in color," she recalls. Believing from an early age that she would live in New York and be an entertainer, she made her dream a reality very quickly. On April 3, 2009, Live it Up! aired its first show. With 20 years experience in the entertainment industry as an actress and voice-over talent-she has credits in film, television, radio, and stage as a performer, as well as a creative player in the strategic brand marketing industry-Drake is no stranger to the world of the self-employed. She has successfully managed Drake Media Productions, Inc., an advertising and production facility, out of her Plainview office since 1990.
Visit the show's website, www.liveituptvshow.com, and view seasons one and two, behind the scenes videos, and information pertaining to the show's theme. Drake is also in negotiations for international distribution.
Quick Stats: Melville resident Donna Drake, founder, co-host, and producer of Live it Up!, has three children: Andrew, 19, Elise, 16, and Matthew, 4.
Live it Up! is recorded in Drake's Plainview studio and airs Friday at 6am on WLNY-TV 10/55; it currently airs in the tristate areas of New York, New Jersey, and Connecticut and is also available on the Internet: www.liveituptvshow.com.
Who inspired you to be an artist?
I grew up in St. Louis, Missouri, and had dreams at a very early age of coming to New York City to become a famous actress. I always studied and have to credit my teachers. One in particular was Mrs. Bergner, my elementary teacher, who always smiled when I sang and would always compliment me. I remember her bending down to my level after I sang for the class and saying, "You have a beautiful voice."
What kind of investment does it take to start a television show?
I don't know really, but I do know that failure wasn't an option. I liquidated everything I possibly could to fund this show. I borrowed money, bartered, and was successful in securing sponsors early on. It was extremely risky because of the economic climate. I just focused on the vision and moved forward!
What are some tips for other moms thinking of starting their own business?
Know that it's okay to ask for help. Asking for help is a sign of strength. Having a clear vision is important, too. You must have a plan. Something else I've learned is that success is about collaboration and not competition. Networking and giving back is also important. My involvement and fundraising efforts with the Huntington Arts Council, Breast Cancer Awareness, and Long Island Care are rewarding on many, many levels. Being involved in your children's lives and your community brings it all full circle.
What are some personality traits you possess that have helped your success?
Patience, acceptance, and tenacity.
How do you juggle your family and career?
It's a challenge, but I love what I do. I have worked full-time, part-time, in the car, at home, at the office, in a studio, while my children are asleep, awake, at school, and all in between. When you are passionate about something, you just make it work. You do what you need to do to be there for the kids and to fulfill your dream. I love what I do and I love my family too. I have a great support system and great kids. Starting another business venture just seemed natural.
What's next for Live it Up!?
It's very exciting what is going on. The show has its own energy. We just started season three and are looking at international distribution in other markets!