More than 600 teams of students in grades 7 through 12 participated in the national 9th Annual Team America Rocketry Challenge (TARC), but only a single team from Long Island qualified for one of the 100 coveted spots at this year's National Finals Fly-Off, held May 14 in Virginia.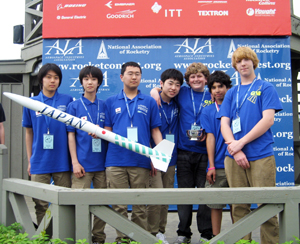 That team was The Green Vale School Rocket Club, made up of eighth-grade students Stark Johnson, Clarence Bonebrake, and Koorosh Leibowitz, who finished the competition in sixth place-the only middle school team to land in the top 10.
Sponsored by organizations like NASA and the National Association of Rocketry, TARC is a national contest that aims to inspire students to pursue further study and careers in science, math, and engineering.
The Fly-Off challenge was as follows: Fly your rocket, carrying a raw egg, to an altitude of 750 feet within 40 to 45 seconds, and return the egg to the ground, unharmed, via a 15-inch parachute. After two rounds of launches, the Green Vale trio ended the day in sixth place with a total score of 26 (with zero being the perfect score).
First place went to the club team from Rockwall-Heath High School in Texas, with a total score of 16. They will compete at the Paris Air Show this summer against the top teams from France and England.