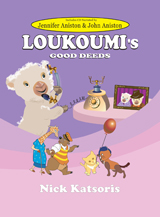 "In our house, we grew up with the Golden Rule: do unto others as you would have others do unto you," says Days of Our Lives actor John Aniston when asked about the values he instilled in his children, Alexander, 19, and actress Jennifer Aniston, 40. That's precisely the message in the new children's book, Loukoumi's Good Deeds, which Jennifer narrates on an accompanying CD that features the voice of John as Loukoumi's daddy.

The third book in Nick Katsoris' Loukoumi series showcases the lovable lamb's discovery of the joy of doing nice things for others. It follows similar selfless themes in earlier books narrated by John and Jennifer on the CDs Growing Up with Loukoumi and Loukoumi's Gift. Other characters feature the voices of celebrities Gloria Gaynor (who wrote the CD's featured song, "Make Someone Smile"), Olympia Dukakis, CBS News anchor Alexis Christoforous, Guiding Light star Frank Dicopoulos, and American Idol's Constantine Maroulis. Katsoris lives in Eastchester with his wife and two children.
John Aniston spoke to us about the importance of the book's message in his life and in raising Jennifer and Alexander.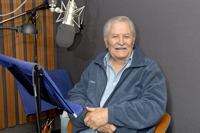 How did you become involved in this project? Were you drawn to the book's message?
"(Author) Nick (Katsoris) asked me to narrate one of the books in the series and I said I would be delighted. I loved the genesis of the book. The cleaning lady where Nick worked gave him a gift one year: a pair of gold cuff links. She said, 'You were the only one who said good morning to me every day!' It goes to show that a good deed doesn't have to cost anything."

Do you remember a time when someone went out of his/her way to do something nice for you?
"I grew six inches over one summer when I was 14 years old. And this kid Roger sort of just took to me and decided he was going to be my protector. Someone was giving me a hard time one day and Roger just stepped in and said, enough of that!"

The story Growing Up with Loukoumi encourages children to pursue their dreams. Were you encouraging of Jennifer's dreams to become an actor like you? Was she inspired by you?
"Well, Jennifer's fond of telling people that I told her not to be an actress (because it's hard to make a living at it)! I said be something else — a doctor or a lawyer — but that's what she wanted to do. She had the drive to do it. When you grow up in the business, I guess a certain amount of your interest gets piqued. I didn't know she wanted to be in it until one day she decided she wanted to go to performing arts school." (Jennifer attended LaGuardia High School of Music & Art and Performing Arts.)

What do you think surprised you the most about parenting?
"How difficult it is, all of it. Parenting is the hardest job in the world and all of us are ill prepared for it. We do the best we can. Every once in a while your child will ask you a question, and you'll say, 'Oh, boy! This is an important moment! What do I do?'"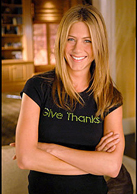 Do you have a favorite memory of raising Jennifer in NYC?
"Jennifer suggested we go roller-skating in Central Park one year. I said, "Ok, I can do that." (We'd gone weekly when I was growing up). We went down the hill… but (soon I realized), how do you stop? I said, 'This is not going to work,' so we went to the rink.
"We had a house in New Jersey, too, in Essex County, a couple of minutes from Great Gorge. We'd ski in the wintertime and sail in the summertime."

All proceeds of from sales of Loukoumi's Good Deeds will benefit St. Jude's Children's Research Hospital, an organization that both John and Jennifer have supported. For more information, visit www.Loukoumi.com.