The school cafeteria is filled with poor diet choices. From franchise fast food offerings to soda machine temptations, today's kids are faced with a lot of unhealthy options at lunchtime. So what can parents do? They can pack a better lunch! But many parents could use some help — the typical school lunchbox is often filled with fat, sugar and salt, and lacking healthy fruit, protein and whole grains.
    Lowering your child's intake of fat, especially saturated fat, is an important part of making over the lunchbox. The other key is balance. Having a decent protein-to-carbohydrate ratio in your child's lunchbox will help them finish the day with energy to spare:
1. WIPE OUT WHITE BREAD.
Breads made with whole grains are better sources of fiber and keep your kids feeling full longer. They also contain more of the other important nutrients, such as selenium, potassium and magnesium. The good news is that it's easy to find whole grain options at grocery stores for everything from bread to crackers to tortillas.
2. BE CHOOSIER WITH CHEESE.
Cheese is the #1 source of saturated fat in our diets! Try swapping out high fat cheese with a better-for-you option. Soy-based Veggie Slices taste like real cheese so kids won't know the difference in their favorite sandwich. The makers of Veggie also introduced Super Stix just this year, a new lactose-free mozzarella flavor snack stick with no saturated fat or cholesterol that's a perfect packable for lunchboxes.
3. DON'T SKIMP ON FRUIT. 
Swap fruit for sugary snacks that cause kids' energy levels to nosedive mid-afternoon. Bananas are great for lunchboxes. They are convenient, a great source of potassium, and come in their own carrying case. Pack it on the very top and wrap in a napkin for protection. Sliced apples, peeled oranges, and grapes make great lunchbox additions as well.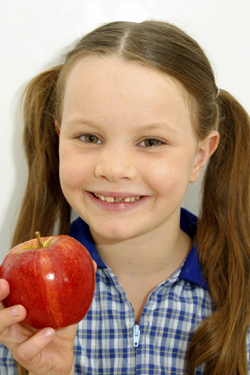 4. SKIP THE CHIPS!
Most kids feel their lunchbox isn't quite packed unless there are chips aboard. Parents know most store-bought chips are not the healthiest food around. Baked tortilla chips are a good option. Even better are baked pita chips, which are easy to make at home.
5. BE CHOOSEY ABOUT BEVERAGES.
According to the American Academy of Pediatrics, drinking too much juice (yes, even 100 percent fruit juice) can contribute to everything from cavities to childhood obesity, not to mention the discomfort of gas and bloating! Get your child into the good habit of drinking water. Try freezing a bottle of water instead of the usual juice box and flavored drinks — and skip soda altogether. The bottle will keep the lunchbox cold and will be thawed by lunchtime!   
Packing a healthy lunchbox is something parents can easily teach kids to do for themselves. Children who learn to pack a healthy lunch are the kids who learn to make responsible nutrition decisions as they grow up.
LEANNE ELY is a Certified Nutrition Consultant and author of the 'Saving Dinner' book series.
WHAT TO DRINK
—For packing in a lunchbox,
Wateroos
is a great alternative to a juice box. These flavored waters, packaged in an 8-oz. drink box, are subtly but naturally flavored, with no sugar, artificial ingredients or sweeteners, and no calories.  There is grape, berry, apple, or unflavored, each with an activity on the box.  They are only available online, at
www.wateroos.com
; $11.84 for 24 boxes.   
—For kids who are addicted to sport drinks, steer them towards
O.N.E.
, 100% all natural coconut water that is also sold in drink boxes.  The 11-oz. boxes contain the water from green coconuts.  They have no fat, no added sugar (there is naturally occurring sugar); and five electrolytes, making them a great alternative to Pedialyte as well.  O.N.E., which is rich in potassium, is made in Brazil and sold at Whole Foods for $1.79.  For more information, go to
www.onenaturalexperience.com
.