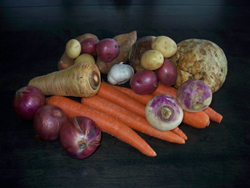 Thanksgiving provides a great opportunity to serve your family some deliciously tasty root vegetables - some they'll recognize and others that will be less familiar.
I have to admit I couldn't even tell you what a root vegetable was until I looked it up on the Internet. As wikipedia.org explains, root vegetables are "underground plant parts used as vegetables...Root vegetables are generally storage organs, enlarged to store energy in the form of carbohydrates." On the web, I also learned that they are high in nutrition while low in cost and calories (about 10 to 60 calories per half-cup serving).
Inspired by assorted recipes I found online, I decided to head to the local farmer's market and grocery store to snap up an array of root vegetables spanning the gamut from potatoes and carrots to red onions, parsnips and leeks. I also added a couple of sweet potatoes and turnips to the mix, and threw in a rutabaga and celeriac (celery root). For extra flavoring, I bought a head of garlic and some fresh rosemary.
At home I spilled out all of the produce on the kitchen table. Like a demented food stylist, I arranged my "before" picture - a composition of raw vegetables in a variety of shapes and sizes with a rainbow of colors ranging from purple and red, to orange, green and brown. So maybe I hadn't harvested my own vegetables like Barbara Kingsolver, whose book Animal, Vegetable, Miracle details her family's year of living off the food they grew in their own backyard (with the addition of select items from local farms), but I still felt pretty good about the bounty splayed across my table.
The next step was preparing all the vegetables, specifically peeling, then chopping them into one-inch diced pieces, a daunting task and one I'd be happy to pass on to my full-time sous chef/cleanup crew should I ever win the lottery. I started with the celeriac, a knobby beige and light green ball-shaped vegetable about five inches in diameter, which, when I held it to my nose, actually smelled like celery. After peeling it, you have to make sure to cut the dirt-filled crevices from the greenish white interior. Next was the parsnip, which looked like a thick carrot and had a light brown skin outside and a creamy colored inside, almost the shade of a banana. The bulblike turnips, about the size of tennis balls, had a purple and white exterior and white interior, plus a sharp, bitter, radish like aroma. The rutabaga was the size and shape of a large orange and featured a mottled beige and violet surface. I ended up having to cut it into thick circles and then slice off the hard and dense skin with a sharp knife. Inside, the peach colored flesh had a pungent smell similar to the turnip (FYI, the rutabaga originated as a cross between a turnip and cabbage and is also known as a Swedish turnip).
Also on the "peel and dice" list were orange sweet potatoes and carrots, purple colored red onions (cut them lengthwise into 6 sections, each with a piece of the heart intact so they don't fall apart when roasting), and green leeks (use only the pale and light green parts). Happily the red-skinned potatoes required only scrubbing and slicing.
After mixing the chopped vegetables with some rosemary, olive oil, salt and pepper, I spread them onto two heavy, large baking sheets.
By the time the mixture had finished roasting in the oven, a tantalizing, earthy aroma had permeated the entire kitchen. Opening up the oven and staring at the beautifully browned root vegetables in front of me, I felt so healthy that I had to scour the kitchen for the candy bar I had hidden away.
Roasted Root Vegetables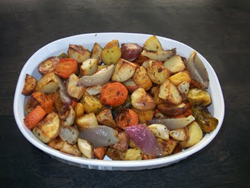 8 servings

Ingredients
1 pound red-skinned potatoes, unpeeled, scrubbed, cut into 1-inch pieces
1 pound celery root (celeriac), peeled, cut into 1-inch pieces
1 pound carrots, peeled, cut into 1-inch pieces
1 pound parsnips, peeled, cut into 1-inch pieces
1 large rutabaga, peeled, cut into 1-inch pieces
2 turnips, peeled, cut into 1-inch pieces
2 red onions, cut into six sections each
2 tablespoons chopped fresh rosemary
1/3 cup olive oil
6-8 garlic cloves, peeled
2 leeks (white and pale green parts only) cut into 1-inch-thick rounds
1 tsp. kosher salt, or to taste
½ tsp. pepper

Preparation
Heat oven to 400 degrees F. Coat two heavy large baking sheets with a thin layer of vegetable or olive oil. Combine all the ingredients except garlic and leeks in very large bowl (I used two plastic bags); toss to coat. Divide vegetable mixture evenly between the prepared baking sheets. Place one sheet on each oven rack (position one on top and one on bottom). Roast 30 minutes. Add garlic and leeks and return to oven. Continue to roast until all vegetables are tender and brown in spots, stirring and turning occasionally, about 30 minutes longer (keep checking to make sure they don't burn). Yum!
LAURA JOSEPH MOGIL is The Inspired Chef. Check out more great recipes at www.theinspiredchef.blogspot.com.