HOW TO MAKE THIS HALLOWEEN A FAMILY AFFAIR: DRESS UP IN COSTUMES WITH A COMMON THEME
Related:
Halloween
,
halloween costumes
,
family costumes
,
kids costumes
,
theme costumes
,
dress up
,
dressing up
,
celebrate halloween
,
trick-or-treat
,
,
Although most parents consider Halloween a holiday for kids, why not get in on the action and dress up in a costume too? Pick a theme and include everyone (even the family pet) in the festivities this October 31. Read on for tips on how to make Halloween 2011 a family affair.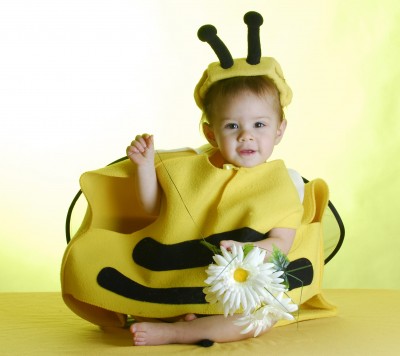 Chasing Fireflies predicts more Ma-mummies and Dad-raculas will dress up this year than any other, in part because busy parents are using the day as an opportunity to have fun and create a special memory with their children. Results of a Halloween 2011 survey reveal that parents can increase the enjoyment their children have by getting in on the act themselves - two-thirds of adults agree that Halloween is more fun for their kids when parents dress up too.
Chasing Fireflies co-founder Lori Liddle said, "As parents, we try to surprise and delight our children. Halloween is filled with opportunities to do both. Our latest survey not only confirms that, but gives us some great ideas on how we can help busy parents do just that."
Here are some family-fun suggestions based on the findings from a recent survey conducted on behalf of Chasing Fireflies of 1,000 U.S. adults.
Choose a theme for the entire family.
Creating a family-wide theme is a great way to get everyone in on the fun and make Halloween a memory for the ages. Two-thirds of adults reported they enjoy seeing entire families dressed up in a group theme. The pirate horde invading the neighborhood costume party is a guaranteed hit. And the silly photos of the event will be treasured mementos years down the road. Choosing a theme is also an ideal chance to show your creativity. Parents and kids can have a "whale of a time" choosing their favorite sea-themed costumes: a giant octopus, lobster, orca, shark, glittery tropical fish, magical mermaids and more. For a nature theme, baby sister can be baby blossom, big sister is fancy firefly, little brother is a gnome. Have all daughters? Each can choose a pretty fairy and flit out for a night of merriment.
Liddle said the company is also seeing greater sales of mother/daughter themed costumes as moms look at Halloween as a chance to create a special childhood memory for their daughters.

"Parents are more time-crunched than ever and looking to make every experience with their kids count," says Liddle. "You'll never forget the fun of dressing alike for Halloween. Moms have told us they're pleasantly surprised by how cool other trick-or-treaters think it is, too." Chasing Fireflies has added more mother/daughter pairings to the line such as sweet red devils, cha cha cha dancers and midnight ravens.
Another doggone good idea? Dress up the family pet. The results can be hilarious, and children will delight in seeing a canine pirate, a lumbering cave dog, or a four-legged Dorothy sniffing her way down the yellow brick road.
Set your house apart from the "the usual haunts" by dressing up.
Halloween is a convenient excuse to re-live the childhood fun of dressing up - both yourself as well as your house. Eighty-two percent of adults report that they looked forward to Halloween as a child. While a full two- thirds of grown-ups have dressed up as adults at least once, one of the reasons parents cite for not dressing up more often is the limited selection of costumes.
According to Liddle, "We hear from many parents that dressing up in costume is fun but they often have trouble finding family-friendly costumes. So we've expanded our adult costume selection to give moms and dads more age-appropriate - and better quality - choices." Adult costumes range in size from women's 4 to 24 and men's 38 to 52.
Whether greeting trick-or-treaters at the door or chaperoning their kids around the neighborhood, "dressing up lets parents be part of the fun instead of just observing it," says Liddle. "The best part is seeing how much enjoyment kids get out of interacting with your 'new character'."
Make an entrance at adult parties.
Why should kids have all the fun? Attending adults-only costume parties is yet another opportunity for parents to dress up on Halloween. Their own imaginations can be indulged at Chasing Fireflies with the likes of a monster and bride, vampires, Vikings, a ghostly couple and pirate pairings.
Whatever the costume you and your children choose, bringing imagination to life has benefits that last a lifetime. According to Liddle, "For kids, Halloween is part anticipation, part trick-or-treating, part candy! For parents, it's about having fun with their kids and making memories that last long after the day is over. Our goal is to help the whole family get into the spirit of the holiday."
See Also:
Have a Green Halloween: Recycle Your Kid's Costume by Participating in
National Costume Swap Day
Harry Potter-Inspired Halloween Recipes and Costumes
---
Get Your FREE Indoor Activity eGuide!
---
More CHILD RAISING Articles
Indulge in Gift-Giving Instincts Without Spoiling You Kids
5 Negative Traits That Will Benefit Your Tween in the Future
NYMP Q&A: Do Fathers Matter?
What to Do About Your Child's Bad Language
Sick Day: A Plan for When Your Child Stays Home From School