Any parent who has ever had their child hospitalized knows firsthand that a hospital can be a scary place for kids, even during a temporary stay. The endless onslaught of needles and tests, often combined with sickness and discomfort, is enough to make any kid tense and upset. A chronically ill child faces weeks or even months of this; many times these children spend more time at the hospital than at home. Michael Raccuiam hopes to alleviate some of the kids' anxiety at Schneider Children's Hospital through magic.
   Each month, Raccuiam volunteers his time and performs his magic show for the pediatric patients at Schneider. A magician for over 30 years, he's been performing professionally since he was just 16 years old. While pursuing a career on Wall Street for many years, Raccuiam still performed his magic act on nights and weekends. Soon, the love of his performance art, along with the volume of shows he was booking, helped him make the decision to leave Wall Street and start his own business.
Magic Touch Entertainment
was born in June 2007, and Raccuiam now performs regularly for events such as bar/bat mitzvahs, luncheons, and corporate functions. Despite his busy schedule, when the call came in asking him to donate his time and talent at the hospital, Raccuiam jumped at the chance.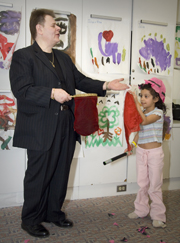 When he was 5 years old, a bout with Perthes disease forced Raccuiam to be hospitalized over the holiday season, from October through January, leaving him feeling sad and lonely. Recalling that childhood memory was one of the reasons he wanted to brighten the days of kids who had to be in the hospital. "Since I was in Blythedale Children's Hospital for three months when I was a child, I knew immediately how my skills as a magician could help benefit the children," he explains.
   As Raccuiam brings a little mystical experience to the sterilized hospital environment, he adjusts his act to cater to the patients' conditions. "I have a couple of different stand-up magic shows, and I also perform walk-around (strolling magic). I also do balloon animals, face painting and water tattoos, such as Sponge Bob and Spider-man," he says.
   One program consists of visual magic, comedy and audience participation (providing the children can get up and participate). "Some of the children at the hospital are in pain, can't get up to help out, or may be very tired or ill from their treatment," he says. If the kids are not well enough to take part in the performance, Raccuiam does a total stand-up performance.   
   Noting that his volunteer work is rewarding, he says the absolute best part of it is: "Watching the smiles appear on the children's faces, having them laugh, and knowing that at least for a short time, I'm taking their minds off their pain."  
Michael Raccuiam will be performing at Schneider Children's Hospital this month, as well as at various venues throughout the city. For more information, call (718) 468- 4383 or visit www.magictouchent.com