Sometimes, divorce can be the perfect catalyst for reinvention. For Nyack native, Terry Martin Hekker, an unexpected split after 40 years of marriage led her to face her fears, find a new path, and change her philosophy about working motherhood.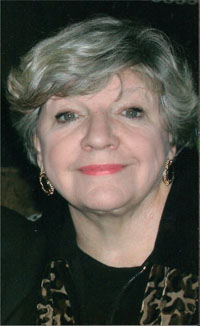 Back in the 1970s when Hekker was happily married with five children, she was content to live what she calls the "Edith Bunker" lifestyle — putting her family's needs ahead of her own. While feminists were encouraging women to break into the workforce and move up the corporate ladder, Hekker decided to write about the importance of staying at home to care for your children. Hekker's 1978 op-ed column, which shot back at feminist leaders such as Gloria Steineim and Betty Friedan, was published by The New York Times, and led to her book, Ever Since Adam and Eve. Hekker appeared on major talk shows, sharing her strong views on homemaking vs. working motherhood. At the time, Hekker was happy with her life and never expected it to change.

As she approached her 40th anniversary, however, she was completely thrown for a loop when her husband served her with divorce papers. Left in her picture perfect Victorian home to pick up the pieces of her shattered marriage, Hekker found herself alone for the very first time. What she didn't realize was that this low point in her life would eventually serve as a catalyst for her personal reinvention.

Hekker credits her best friend and neighbor, the Tony award-winning actress and singer Elaine Stritch, for helping lift her out of her doldrums by offering advice, support and humor. When Hekker told Stritch that after changing the locks in her house, many of her former ailments had disappeared and that she'd even shed a few pounds, Stritch quipped: "Four major illnesses cured by a locksmith!"

Determined to start over, Hekker embarked on a new journey. In the past 10 years, this inspiring woman has served as the first female Mayor of Nyack; was involved with the Helen Hayes Theater by providing lodging to actors like Olympia Dukakis and Loretta Swit; and she became Elaine Stritch's personal assistant, monitoring her friend's diabetes while traveling with her throughout the country. Hekker says she had a marvelous time on the road with Stritch, staying in some of America's ritziest hotels.

But Hekker's story of reinvention doesn't end there. Following a second editorial published in The New York Times this past January, where she admitted that if she had to do it all over again, she would have pursued her education andentered the workplace, Hekker was flooded with emails from women facing similar circumstances, as well as numerous interview requests from high profile media outlets.

Hekker once again appeared on the Today show, but this time she offered her personal story as a cautionary tale to women who completely toss aside their career aspirations or their education in order to raise a family. Hekker is currently in the process of writing her second book, its title suggested by Stritch, Disregard First Book. She has also become an advocate for older women who find themselves divorced or widowed and don't have the financial resources to cope.

One very important role that's near and dear to Hekker's heart is that of grandmother to 12 adoring grandchildren. Hekker's children still live nearby. Her daughter, a mother of three and a successful television marketing executive, says she moved her family back to her hometown so that her mom could keep a close eye on her kids while she continues to pursue her career. Whenever her children or grandchildren need her, Hekker says she's always there to help lend a hand.

For Hekker, a major bump along her personal roadmap led to the adventure of a lifetime. While she may have done things differently had she decided to work while raising a family, Hekker says she led an idyllic life back then, raising five wonderful children. As she continues to pursue her latest passion, she looks back at her own miraculous transformation and concludes, "It's never too late to reinvent."


———————————————————————


Terry Martin Hekker will be appearing on a "Mothers of Reinvention" panel featuring women who have successfully reinvented their lives while raising a family, on Thursday, November 16, 2006 (6-8pm). The event, produced by Role Mommy, an online community for busy moms, will take place at the Children's Museum of Manhattan (CMOM), 212 West 83rd Street, between Broadway and Amsterdam. For more information, visit Role Mommy at www.rolemommy.com or the CMOM website at www.cmom.org.