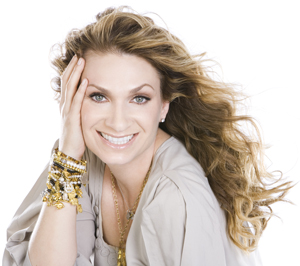 A fashion designer and stylist for more than 15 years, Heather Thomson has worked with celebrities like P. Diddy, Jennifer Lopez, and Beyoncé to launch and develop their designer clothing lines into major brands. Yet it wasn't until the birth of her first child - and a subsequent health crisis - that Thomson realized something she herself had a need for could empower women to feel comfortable, confident, and sexy. After just one year, Yummie TummieTM is carried in more than 2,000 stores nationwide. It was selected as one of Oprah's Favorite Things, and has become the go-to solution for consumers and celebrities alike.
Quick Stats: Heather lives in Manhattan with her husband of seven years, Jonathan, their son Alexander Jack, and daughter Ella Rae, 5 and 2 respectively.
How did you break into fashion?
I had been cutting and sewing my own clothes since I was a child. When I graduated from college, I didn't really know what I wanted to do so I worked in a ski shop as a specialist. I realized the store had only medium and high price point merchandise so I suggested they do a private label line. They asked me if I could help them, so I started to sketch the collection and that's when I decided I wanted to be a designer. I then worked as the assistant to the president of an intimate apparel company - traveling all over the world, learning pattern making and cutting on the factory floors - and I started to design for them.
Where did you get the idea for Yummie TummieTM?
My son was born with a severe upper respiratory infection and for the first 48 hours, he fought for his life. Then we found out he had a rare liver disease, biliary atresia, and that he would need a liver transplant at 6 months old. (Alexander Jack is healthy today). I still had 30 pounds left to lose so I went to the shape wear department for something to hold in my stomach and was really horrified at what my options were. The only choice for women who had bellies was a girdle! So out of frustration, I took a bunch of the shape wear products and I sewed the first Yummie TummieTM tank top. When I wore it, people would compliment me on losing the baby weight and I would say, "Oh please, it's my Yummie Tummie!" When women told me they wanted one, I started to sew them at home. Then my husband reminded me how I always want to inspire women and here I had the opportunity to do so. That's when I decided I would produce some and make them available to the public.
What were the steps involved?
My husband helped me put together a business plan and I looked for financing. We enrolled in a trade show and launched with the original tank top in 10 colors. We sold thousands.
What would you tell someone who has an idea but doesn't have financing right away?
If it's an original idea, trademark it and hire a patent attorney. If it's not an original idea but you think it's better than what everyone else offers, spend the money for publicity so the world knows you exist.
How do you manage the work/life balance?
It takes teamwork. We have a nanny and my children's godparents are involved in their lives. I'm 100 percent Mommy when I come home and I have a pact that I never walk into the house on the phone.
For more information about Heather Thomson and Yummie TummieTM, visit www.yummietummie.com.