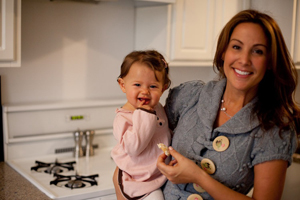 After leaving a successful career as a television packaging agent - and later, her own production company - Sara Leand decided to go back to the gourmet cookie business she started in college, Sara Snacker Cookie Company. With a new baby at home, her plan was to first sell her products online and eventually wholesale. But after an almost near miss opportunity, Leand's plans changed and practically overnight her company became a bigger success than she had anticipated. In 2009, Leand launched her first delicacy, the Chipn'etzel,TM to rave reviews. This month, her CandypopTM cookie, Gotta Love a Fluffernutter®, and other treats that bring back warm, childhood memories will be available in stores nationwide.
Quick stats:
Sara lives in Manhattan with her husband, Paul, of three years and their 1-year-old daughter, Lily.
Tell me about the early days of the Sara Snacker Cookie Company.
When I was in college, I was constantly baking for my friends and they would say, "Why don't you sell your cookies, they're so good!" I thought they were kidding, but I finally decided I would try. My cookies were sold all over campus and in several stores around school. My business was always called Sara Snacker but since I did it out of my dorm, the packaging wasn't anything like it is now. I think I used SaranTM Wrap and a sticker.
How did your original plan change?
The bakery I worked out of suggested that we share a table at the Fancy Food Show. I was fortunate to be one of 25 people to be invited to the "New Brands on the Shelf" program. I think the deadline was 48 hours away and it was shocking to find out that I even got in. USA Today wrote an article about the economic environment and mentioned me as being one of the successes in a tough environment. I also got a distributor from the show and the wholesale connection happened before the website was even up and running. I was fortunate that everything happened a lot more quickly than I had imagined it would.
What were some roadblocks or challenges along the way?
Meeting my own level of standards as production and distribution grow continues to be my biggest challenge. Baking one batch in your kitchen is much different than baking a thousand pounds and making sure every one tastes as good as the first.
What do you think was the biggest key to your success?
Surrounding myself with the right people and finding people that I enjoy working with and that feel as passionate about my product as I do.
What's the best part of your job?
I'm doing something I love and that I always wanted to do, and it's something that really puts smiles on people's faces.
What's one piece of advice you have for other mom entrepreneurs?
The most important thing is to know your product and own your passion.
How do you manage work/life balance?
I love doing this, but my daughter comes first. There are no "work hours" - it's 24 hours a day, but you choose the hours.
For more information about Sara Leand and the Sara Snacker Cookie Company, visit www.sarasnacker.com.