The March of Dimes has announced its 2012 Long Island ambassadors, including three local families that have first-hand experience with premature births.
The Long Island Division of the New York Chapter of the March of Dimes announced its 2012 Long Island ambassador families: the Theologitis family from Lake Grove, the Raymar family from Merrick, and the Thomas family from Massapequa. These families were selected by the March of Dimes because of their first-hand experiences with premature births.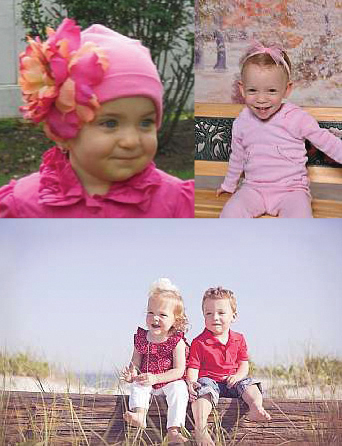 Clockwise from top left: Ava Theologitis; Samantha Raymar; Grace and Johnny Thomas
The March of Dimes' annual March for Babies takes place May 6 at Stony Brook University. The fundraiser event benefits all babies, including those born healthy and those that need help to survive. More than 30,000 babies are born prematurely in New York each year, and more than 4,000 of those babies are born on Long Island. Almost 200 of them will not live to see their first birthday.
Ann Marie Theologitis of Lake Grove gave birth three months prematurely to identical twin sons and a daughter at Stony Brook Children's Hospital in 2010. Although the boys, Niko and Alex, did not survive, Theologitis' daughter Ava survived and thrived, thanks to the expert care in the Neonatal Intensive Care Unit. Now, Theologitis volunteers in the NICU to give back to families who face similar situations. She and husband Pete want to help give hope for the defeat of premature birth and other threats to babies. "The money we raise will support March of Dimes' research and programs that help moms have full-term pregnancies and babies begin healthy lives. And it will be used to bring comfort and information to families with a baby in newborn intensive care."
Samantha Brooke Raymar (Merrick) was born 15 weeks premature, weighing just 1 lb. 11 oz. and measuring 12¼ inches long. Samantha's parents, Brandon and Melinda, saw their daughter go through incredible daily battles in the NICU at Winthrop University Hospital where she stayed for 98 days. During her stay in the NICU, Samantha underwent several life-saving surgeries, blood transfusions, and breathing treatments. After three long months, she was finally able to go home. Today, Sami is a happy, energetic 2-year-old who loves books, Elmo, and her family. "We feel that it is important to find out why premature birth happens and what can be done to prevent it," her parents say, which is why they chose to walk with the March of Dimes at Eisenhower Park on April 29.
Vaulted into the world in critical condition at just 25 weeks gestation, weighing 1 lb. 11oz. and 1 lb. 14 oz. respectively, Grace Michelle and John Russell Thomas (Massapequa) had a rough start to life. Grace spent five months in Neonatal Intensive Care Units undergoing surgery to fix her heart and struggled with respiratory issues and collapsed lungs, which eventually resulted in additional surgeries and the use of a ventilator. Her twin, John, spent three and a half months in the NICU, undergoing life-saving heart surgery at just 10 days old. It wasn't until his discharge that a profound hearing loss was discovered and his prognosis became uncertain. Today though, John and Grace are typical 2-year-olds. John can hear and understand the world around him and Grace is still the fighter she was since the day she was born. "Every day, thousands of babies are born too soon, too small, and often very sick. Our team is walking in March for Babies because we want to do something about this," say parents Danielle and Gregg.
For more information on the March of Dimes, visit marchofdimes.com/ny. To join the March for Babies, register at marchforbabies.com.