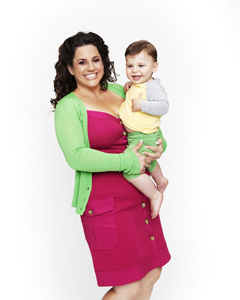 On stage, Marissa Jaret Winokur is a first-rate charmer, as anyone who caught her performance in Broadway's long-running hit musical Hairspray knows. The moment she belted out the opening number, "Good Morning, Baltimore," theatergoers were sold, blissfully caught up in the contagious joy the high-energy actress/singer/dancer radiates. And clearly, her character- never-say-die high schooler Tracy Turnblad - was a perfect match for her upbeat offstage personality.
The ebullient Winokur became a glowing mom after the birth of her son, Zev, in June 2008. Winokur - who danced her way into everyone's hearts with her warmth and outgoing personality on season six of Dancing with the Stars - has become an ultra-savvy first-time mom.
Last September Winokur became the key celebrity in the launch of Luvs Baby Diapers' "Take A Stand" proactive campaign that urges moms everywhere to speak out about what is important to them - such as keeping expenses for everyday items (like diapers) affordable.
"Being a mom... is my favorite job, but it's also important to me to give back and stand together with moms who demand more for their hard-earned dollars," says the actress who, when celebrating Zev's first birthday last summer, matched every toy her son received with a donation to a nonprofit organization serving families in need.
Luvs Diapers brand manager, Dominic Iacono, notes, "We chose Marissa to lead the Luvs campaign because we knew that she was someone moms would really relate to, and as the mom of a one-year-old, she knows just the types of sacrifices moms make and what it takes to rally them together... [She] is a natural draw for moms to jump in, get involved and share with others how they've taken a stand for their own families."
As part of "Take a Stand," Winokur contributed a series of video testimonials to Luvs' website. They are really worth a look-see, as they tap into subjects like mother's intuition, rolling with the punches and "giving back."
"I tell you, motherhood really puts things into perspective," Winokur notes in one of the online videos. "And it makes you reevaluate your priorities because our plates are so full with juggling our schedules and the house and - dare I say - having time for ourselves."
To take your own stand and/or to watch one or more of Winokur's videos, visit www.luvsdiapers.com/marissa-jaret-winokur.do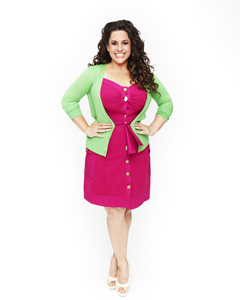 The Facts
At Work: Tony Award-winning actress (2003); Dancing with the Stars celebrity dancer; and host of the popular dance/weight loss competition, Dance Your Ass Off, which debuted on Oxygen Network in late June, 2009.
At Home: Los Angeles. Mother of one son, Zev Isaac Miller (15 months). Husband: Judah Miller, television comedy writer.
Q. What is your favorite activity with your son?
MJW: Zev and I love playing in the water - the beach, swimming, bath time... we lov
e anything with water.
Q. What is the most important lesson you try to impart to him?
MJW: Kindness. I want my son to be kind like his father... a sweet little boy who evolves into a wonderfully kind father and husband.
Q. Who was your greatest child-raising influence, and why?
MJW: My family overall. I have two older brothers and an older sister and since my siblings are so much older than me, they had a great influence on me. But now that I have had a child, I would have to say it's really my mom who has had the greatest influence - she did on all of us.
Q. What is your approach to disciplining your son?
MJW: At 15 months old, there isn't much discipline yet. [NOTE: The special bond between mother and son is evident - photos of the two playing and hugging say it all - as Zev inches up on the "terrible twos."]
Q. What was a memorable family outing?
MJW: We just got back from Hawaii and it was Zev's first vacation. It was great letting him experience the warm ocean, the sand, and seeing him enjoy the luaus!