After 25 suspense novels; three collections of short stories; three mysteries written with her author daughter, Carol; a historical novel; and a memoir (all of which add up to over 85 million copies in the U.S. alone), Mary Higgins Clark has just written her first children's book. Born and raised in the Bronx, and now a grandmother of six grandchildren and eleven step-grandchildren, the much-loved author gives us the exclusive on Ghost Ship, the story of a young boy in Cape Cod who meets a mystical visitor from the past — a cabin boy from a ship that sailed almost 250 years ago.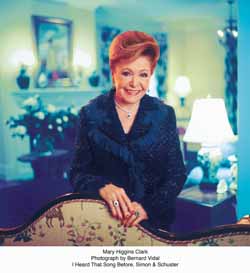 Why did you want to write a children's book?
It just happened. A year-and-a-half ago, I was at a cocktail party for authors to come and sign their books. Wendell Minor, the illustrator, was also there because he had a new book out. His editor said, 'Why don't you two write a book?' We both laughed, and said, 'Sure!' So I went home and I wrote it in one sitting.

Was it easier or more difficult than you expected?
I've always been a storyteller, so it was easy. It was easy to visualize how the children would react. We have a house in Cape Cod, which in fact looks like the house in the book, so I could visualize the children realizing the only way to attract a ship was to set the stairs on fire.

'Ghost Ship' focuses on the stories of ancestors. How did you research that?
There's a book called The Natives of the Narrowland, which is a collection of the myths and legends of the Cape. In it they wrote about the mooncussers, who would cause the ships to crash by starting a fire on the shore. It was a famous practice in the early 1700s. They're just wonderful stories. I used a name from one of those stories for my mythical character in the book.

Where are your ancestors from?
My father was born in Ireland and my mother's parents were born in Ireland, so I'm straight from Ireland. I say my DNA has shamrocks on it.

Did your parents and grandparents tell you stories?
My mother was an interesting lady. She could tell great stories because she was funny. She always said about her mother, who died when I was 3 months old, "Oh, poor mamma, she went to her grave saying I know I could write a book." She never had the chance — so I'm doing it for her.

Do you feel it's important to pass all these stories on to your grandchildren?
Well, yes. I wrote a memoir called Kitchen Privileges, and my granddaughter says it's her favorite book. It gives her an insight into a generation.

When you were young, what was your favorite book?
Well, I still have my first copy of 'Alice in Wonderland' with all the beautiful illustrations. I also liked Gene Stratton-Porter, and the Jody Bolton and Nancy Drew mysteries. I adored A Tree Grows in Brooklyn and I still reread it occasionally. I was always reading.

What impact do you want 'Ghost Ship' to have on your audience? What do you want your audience to take away from it?
I want them to understand what it was like back then. Boys would go to sea for two years. They didn't have lighthouses in those days and it was a dangerous career. The captains were the masters of the sea. In Cape Cod, they had something called the Widow's Walk. In the old houses, there was an area by the chimney where the wives would go to watch their husbands come home from the sea. It was called the Widow's Walk because so many of the men never made it home.

At the end, Thomas's grandmother says, "I know you, Thomas. You were telling stories in your head. You're a dreamer, and it is a wonderful gift, to be a dreamer." Were you a dreamer? Were you always telling stories in your head as a child?
Always, yes, always. When I went back to my old school, the girls' academy, I visited the math and science teacher, who was 90 years old. I had about 15 bestselling books behind me at that time, and she looked at me with her cool grey eyes, because I was always writing a story in math class, and she said, 'Miss Higgins, you were a dreadful math student.' And, as we did in those days, I curtsied to her and said, 'God bless your memory, Reverend Mother.'

What are the challenges of writing a children's book?
Well, there are many different rules. Originally, I had the captain of the ship drinking. And of course you can't do that in a children's book. The editors had me change it to, "He was a most careless mariner."

What advice would you give to someone who wants to write a children's book?
I think the advice with any kind of writing is to tell the story. Depending on your market, you have to visualize a child that age and write what they'll be interested in. You tell them about someone their own age.

Do you think writing is something you are born with, or can it be learned? Can you teach a poor writer to be great?
Writing can be directed, improved, become more skillful, but I think you are born with the ability to tell stories. With music, I could not even hit middle C on key. I just cannot sing. But I was born telling stories.