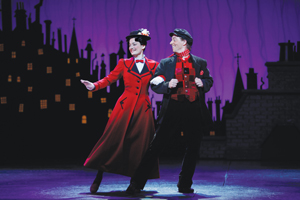 His name is Roberto and his age...three and a half? Small enough to require one of those square booster cushions kid-friendly Broadway shows provide. And he was a chatty one, pointing and commenting-in Italian-on everything and everyone in the minutes leading up to the start of the show. "Sommesso, Roberto!" said the pretty young nanny on his right. "Lower your voice," was my guess from his left.
Not yet in kindergarten...mesmerized in anticipation...eyes scanning the sides of the stage and ceiling for a sneak peek at superstar Mary Poppins... accompanied by a nanny, no less. Too, too good, even if the spoken words won't quite register. "He knows all the songs and the story," explained the nanny, "and so wanted to see it before we flew back home in a couple of days."
Looking around the New Amsterdam Theatre as Bert (chimney sweep/jack-of-all- trades) eased into the opening notes of Chim Chim Cher-ee, I was suddenly struck by how internationally diverse this winter weeknight audience actually was-and how little the language spoken on stage seemed to matter. Kids and adults, whatever their country of origin, were happy to let the show wash over them in nonstop waves of spectacle, silliness, and a good many encounters with the unexpected.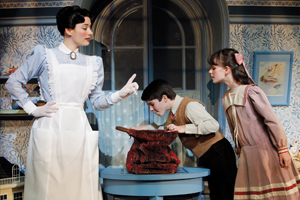 And it's the unexpected, from little touches like cameo appearances by the adorable little puppet dog Willoughby to a marvelous-make that Supercalifragilisticexpialidocious-shop teeming with multicolored eccentrics that magically materializes at No. 17 Cherry Lane, that make the show so appealing to kids. (Roberto was especially impressed by the fleet of kites that appeared during the Act II Let's Go Fly a Kite number, as were a number of other kids who clearly longed to join the action on stage.)
Indeed everything about Mary Poppins is magical, from the character - with her aerodynamic umbrella and bewitched carryall - to the show itself: a genuinely infectious musical offering delicious surprises around every nook, cranny, tree, banister, statue, and chimney.
Produced by Disney and Cameron Mackintosh, the stage musical is based on the beloved children's stories of P.L. Travers (yes, liberties have been taken, so purists beware!) and the 1964 Oscar-winning film that starred Julie Andrews and Dick Van Dyke and combined live actors and animation. But the stage version is unique: dazzlingly theatrical, and, with its extra dose of magic nanny hocus pocus, unforgettable.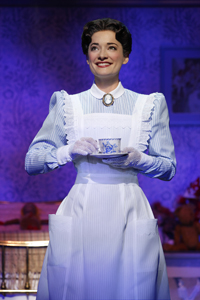 For the record, the Broadway version has been a success for going on four years now, and it hasn't lost a speck of its Tony-nominated charisma since its debut. As for key cast changes, the role of Mary Poppins is now played by the London production's original 'Mary,' Olivier Award-winner Laura Michelle Kelly, while the wonderfully talented Christian Borle (Legally Blonde) has taken over as Bert. Quite the double coup-they complement each other beautifully.
No. 17, when not in total transformation mode is, of course, the Victorian home of the Banks family, whose problems prior to Miss Poppins' arrival mirror some very contemporary issues. Father George (Jeff Binder) is a workaholic who sinks into depression when he loses his job; mother Winifred (Rebecca Luker) is a former actress who is floundering in her role as wife and mother; and the kids Jane and Michael (Juliette Allen Angelo and Jeremiah Kissane at the performance I attended), are selfish, spoiled, bratty, and in need of a spoonful of affection from their absentee dad.
Fortunately, "Perfect Nanny" Mary's supernatural gifts for making everything right in the end come wrapped up in timeless life lessons that can't help but strike a chord with young theatergoers, who automatically reach for their cell phones during intermission yet gaze in breathless wonder at the end as Mary flies over the heads and the theater transforms into a phantasmagorical wonderland of eye-popping Disney stage wizardry.
Mary Poppins: The Broadway Countdown
Once a Broadway show has proven its longevity-and in the case of Mary Poppins, this is absolutely a done deal-creative number crunchers delight in turning their attention to trivia of the mathematical kind. So before, or after, you treat your family to a performance, you might want to let fly some of these "Practically Perfect" figures around the dinner table.
40,000 - # of pounds that the Banks' house weighs
800 - # of hand-sewn crystal stars on each Starlighter costume
350+ - # of different lighting cues
250 - # of props used in the show
100 - # of feet Mary flies "up and out" through the New Amsterdam Theatre
77 - # of years since novelist P.L. Travers created Mary Poppins
52 - # of wigs worn every performance
42 - # of actors in the Broadway cast (with three girls and three boys
alternating as Jane and Michael Banks)
35 - # of women's hats worn at least once throughout the show
30 - # of feet Bert "walks" up and around the stage and proscenium arch
24 - # of chimney sweep brooms used for the tap number, Step in Time
4 - # of times Mary walks up the stairs to the nursery
1 - # of times Mary magically rides up the banister to the nursery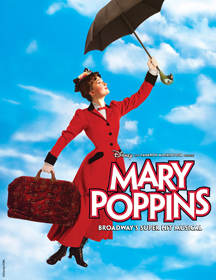 Details
Mary Poppins features original music and lyrics by Richard M. Sherman and Robert B. Sherman; new songs and additional music and lyrics by George Stiles and Anthony Drewe; and book by Julian Fellowes. Running time: 2 hours, 40 minutes.
New Amsterdam Theatre, 214 West 42nd Street (between 7th and 8th Avenues).
For tickets, pricing, production information, preview video, and cool interactive games, visit DisneyOnBroadway.com. To reserve tickets: 866-870-2717.