The 101 Dalmatians Musical begins its New York City tour April 7. Read about the show's canine cast, including 1-year-old Rascal, who went from abandoned pup to spotlight superstar.
One hundred and one Dalmatians are coming to New York! At least, the musical is. As part of its national tour, The 101 Dalmatians Musical will stop for a 12-day run at The Theater at Madison Square Garden, beginning April 7.
One of the spotted stars of the show, Rascal, a Dalmatian just over a year old, was definitely in the doghouse at one point. When he was four months old, Rascal broke his leg. Because his owners didn't want to pay to fix it, they left him at an animal hospital just outside Columbus, Ohio. From there, Rascal was taken in by the non-profit group Second Chances Dalmatian Rescue and then joined Joel Slaven's Professional Animals. A month later, when that organization got a call from The 101 Dalmatians Musical looking for some canine stars, they knew exactly who to send. Even with a broken leg, Rascal nailed his audition, says Jessica Schiffhauer, a trainer with Joel Slaven's Professional Animals who serves as one of the musical's head canine trainers.
Now his leg is all fixed up, and Rascal is one of 15 rescued dogs starring in the play. The musical, slightly different from the classic Disney movie, is based on the book The 101 Dalmatians by Dodie Smith. The story is told "from the dog's perspective," says Schiffhauer. "There are the dogs you get to see, and humans playing dogs, and humans on stilts playing people."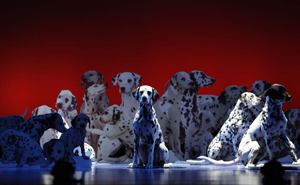 While the whole family can come out to fall in love with these dogs and give them a round of ap-paws, the more important part, Schiffhauer says, is to give every dog a home. That's why, at the end of the tour, all of the show's canine stars will be up for adoption, and the families who give them a good home will receive a year's supply of dog food from Purina Dog Chow.
For more information on how to adopt a Dalmatian from The 101 Dalmatians Musical, visit www.secondchancesdalrescue.com.
For more on the show, see: The 101 Dalmatians Musical: A Family Favorite Comes to NYC.