Bacterial meningitis is a rare but deadly disease that's often misdiagnosed as something less serious because early symptoms may resemble a cold or the flu. Before you send your kids off to camp, where there's a higher risk of infection, get the facts on prevention.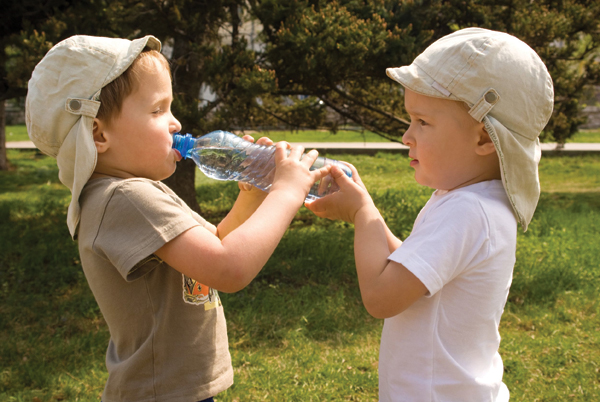 In the summer of 1999, 14-year-old Nick Springer headed off to sleep-away camp in Massachusetts. Though he was healthy when he arrived, Nick fell sick after a three-day hiking trip during the second week of camp. His symptoms were flu-like in the beginning, but counselors soon noticed a blotchy patch on his abdomen and called the camp's doctor, who put Nick on an IV designed to treat blood diseases. Nick's father, Gary Springer, says this action saved Nick's life.
Somehow, Nick had contracted bacterial meningitis, a rare but often fatal disease.
(More on meningitis prevention and other valuable resources.)
"He had last rites in the hospital," Springer says. "They didn't think he was going to make it."
After a two-week ordeal that included 19 surgeries, four amputations (two on each arm at the elbow and another two at each knee), and grafts all over his body, Nick was able to begin the healing and rehabilitation process. The source of the meningitis was never determined, but Springer says his best guess was that Nick caught the disease by sharing a water bottle with a fellow camper who had been in the infirmary with the flu a few days before the trip.
Meningococcal disease, also known as bacterial meningitis, primarily affects adolescents and young adults. Because many of the symptoms (headache, fever, nausea, vomiting, stiff neck, and confusion) mirror other illnesses such as the flu or a migraine, many victims are initially misdiagnosed.
Meningitis is a viral or bacterial infection of the fluid surrounding the brain and spinal cord. Viral meningitis is not as severe as bacterial meningitis and is usually resolved without specific treatment. Bacterial meningitis, however, is a serious and contagious illness that can spread through kissing, sneezing, and coughing. Living in close quarters such as in a dorm room, military barracks, or a cabin at camp increases the chances of passing the disease. Kids who share food or water bottles also risk spreading meningitis. But the disease may be contained through antibiotics or prevented through immunization.
Gary and his wife Nancy later learned a vaccination, used routinely in the military for the past 20 years, could have prevented their son from contracting the disease. After watching Nick battle meningitis, they wanted to do more to raise awareness about the vaccine among other parents. In 2002, they joined several other parents to found the National Meningitis Association. "It's a heinous disease," Gary Springer says. "We know too many people whose children have died too young."
Vaccine Facts
A decade later, according to NMA, at least 37 states, including New York and Connecticut, have legislation that either requires students entering college be vaccinated or that the students and their parents receive information about the disease and vaccine.
"A first dose of the meningococcal vaccine is recommended for all children between the ages of 11 and 12, unless the children have a specific disability, in which case, the vaccine may be administered earlier," says Pramod Narula, M.D., chairman of pediatrics at New York Methodist Hospital in Brooklyn. Dr. Narula's advice is based on guidelines from the Centers for Disease Control and Prevention and the American Academy of Pediatrics, both of which also recommend a booster shot five years after the first vaccination. (The Food and Drug Association has approved the vaccination for children as young as 9 months.)
"There is no downside to the vaccine. There is no live material in it, so there is no way to come down with meningitis by getting the vaccine," says Lynn Bozof, NMA president, who lost her son Evan to the disease in 1998. "I would take enormous comfort in knowing that my child was protected. How many kids are going to keep track when someone sets a bottle of water down? Sports players pass water bottles. You are not going to be able to remind every child at that age not to do that."
According to the CDC, serious allergic reactions, within a few minutes to a few hours of the shot, are very rare; as many as half the people who get meningococcal vaccines have mild side effects, such as redness or pain where the shot was given. Brief fainting spells and related symptoms (such as jerking or seizure-like movements) can follow a vaccination. They happen most often with adolescents, and they can result in falls and injuries. Sitting or lying down for about 15 minutes after getting the shot, especially if feeling faint, can help prevent these injuries.
"There is always a risk-benefit ratio that must be entertained," says Philip M. Tierno, Jr., Ph.D., director, Clinical Microbiology and Immunology at New York University Langone Medical Center. "Since meningitis can be a killer disease, vaccination in high-risk groups is recommended and outweighs any potential side effects." In terms of recommending the vaccine to a broader spectrum, Dr. Tierno explains that those decisions are best left to a child's pediatrician, "who best knows that child's case, as well as understanding the type of camp and the degree of cohabitating bunk mates and other living conditions" they will be exposed to at any given time.
Summer Camp Precautions
The American Camp Association began promoting the meningitis vaccine when approached by NMA in 2007.
"We are always worried about health and safety around here," says Adam Weinstein, ACA executive director of New York and New Jersey. "They wanted to educate us about meningitis, and we were very interested."
After learning more about the disease and vaccine, the ACA worked with the NMA to create materials that would be distributed to campers and their families. In addition to a form letter that camps can send to families, there is also information about how to talk to your child's doctor about the disease and vaccine when going in for a pre-camp check-up. Nurses may also benefit from the tip sheet the organizations created in order to better identify meningitis.
Nowadays, with plenty of information readily available, campers like Nick have a much lower risk of being infected. In fact, Weinstein cannot recall hearing about any incidents at any camps in the greater New York metro area. As for Nick, he has done well for himself.
"Before Nick got sick, the only sport he really played was hockey. He played it constantly. When he got sick, one of the first things he said to the prosthetist was 'I want to play hockey again,'" Gary Springer says.
While Nick was in rehab, he heard about a sport called sled hockey. Determined to help him play, the prosthetist built Nick a sled that he could use. A few years later, Nick ate, lived, and breathed sled hockey. Then his mentor got him a rugby wheelchair.
At first Nick was resistant to focus on another sport, but after watching half of a rugby game, he wanted to go in and play. Nick joined his own team around 2003 and continued playing both sports. In 2008, Nick and the rest of the U.S. Paralympic Wheelchair Rugby Team won a gold medal at the Summer Paralympics in Beijing, China, and another in 2010 at the World Wheelchair Rugby Championships in Vancouver, Canada. He is a prospective member of the 2011 team.
"He never said 'my life is over,'" Springer says of his son. "He was always pretty positive."
It's the Law
Although a meningitis vaccine has been available since the 1970s, it wasn't until the early 2000s that public knowledge of the disease grew and legislative action began (in response to a 1997 report). Currently, at least 37 states have one or more laws related to meningitis with the majority of these laws focusing on school requirements.
In 2003, thanks to the tireless efforts of former Assemblyman Richard Brodsky, from Westchester, and the support of New York State Senator Michael F. Nozzolio, who lost a nephew to meningococcal disease, former Governor George Pataki signed legislation that requires camps, secondary schools, and colleges that have housing for students to provide information about the disease and vaccine, and students must provide immunization response. Connecticut goes even further: Since 2001, the state has required meningitis vaccination for residents of on-campus housing unless a medical waiver is signed, and since 2008 it has indicated that, among other public health measures, the Department of Health and the Department of Education provide local and regional boards of education with meningococcal meningitis information, including causes, vaccination information, symptoms, and spread of meningococcal disease.