This is the last month of the season (and hopefully postseason) for the New York Mets, but forward-thinking fans are already planning trips to the stadium in
2009
, to the new
Citi Field
.
   Rising adjacent to the current Mets home, Shea Stadium, Citi Field harks back to Ebbets Field, the long-gone Brooklyn home of the Dodgers.
   Parents who grew up with Shea Stadium will no longer have to answer their kids' questions about the ugly color scheme at Shea (orange for the departed New York Giants, blue for the Brooklyn Dodgers).  In fact, the new field, made of brick, limestone, granite and cast stone, is following Ebbets Field's color scheme, with the brick chosen to mimic Ebbets' brick, steel painted blue and dark green seats.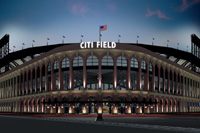 The new stadium also honors one of the Dodgers' most famous players, Jackie Robinson.  Fans will enter the stadium through the Jackie Robinson Rotunda, named for the second baseman who broke baseball's color barrier in 1947.  Alert Queens kids may know Robinson's name from the Jackie Robinson Parkway, which connects Queens to Brooklyn; soon they can learn about his significance in baseball.  The Mets are also donating money to the Jackie Robinson Foundation, which is creating the Jackie Robinson Foundation Museum and Education Center in lower Manhattan.  
   Kids can learn more baseball history at an interactive Mets museum that will feature Mets stars, past and present.
  A Mets spokesperson says the expanded Fan Fest family entertainment area within the ballpark will include a whiffle ball field and other interactive elements, more food options and a large
picnic area.  There will also be an interactive Mets museum with club memorabilia and Hall of Fame displays.
   For more information on the current season, or the future stadium, go to
http://newyork.mets.mlb.com
.
   Let's go Mets.