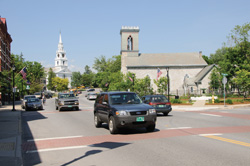 The town of Middlebury is the quintessential adorable Vermont town, filled with buildings from the 1800s and even a few from the 1700s. And there's plenty here for families.
Once toddlers are secure on their feet, hiking is a great family activity. And Middlebury is a great place to start, with its 16-mile Trail Around Middlebury, commonly known as TAM. TAM can be conquered in sections; you can mountain bike on parts, cross-country ski in winter, and there are even areas that are marked for jogging strollers.
Henry Sheldon Museum of Vermont History has a children's room where kids can dress in period costumes, try out an 18th-century bed, and play with dolls or 'cook' over a 'fire.' The building itself is worth exploring; it was built in 1829 and is filled with the furniture of the time.
You can take a tour of the Maple Landmark Woodcraft, where old-fashioned wooden toys, like blocks and trains, are made. There is a train out front for kids to play on, and a great gift shop. And even families with children well under the drinking age enjoy touring Otter Creek Brewing; adults get a free taste of the excellent beer, and kids can sample the pretzels.
If your kids like animals, take a short drive to Moonlit Alpacas, in nearby Cornwall. You can pet the soft animals, and walk around the farm. Beautiful sweaters and hats made from alpaca are for sale.
Middlebury College, right in town, is one of the most beautiful college campuses, and even if you are years from taking college tours, the campus has a swing set and huge expanses of grass that invite Frisbee or ball playing. There is also a free art museum, specializing in Asian and western art.
Family-friendly cafes and restaurants abound throughout Middlebury. At one, Fire & Ice, kids can hang out in a VCR theater while parents eat. Along with a great view of Otter Creek, Tully & Marie's has a large children's menu and many vegetarian choices.
The Swift House Inn is one of the rare B&Bs that accepts - indeed, welcomes - children. When we checked in, my kids were directed to the fresh baked cookies and fruit available throughout the day; the sumptuous breakfast can cause you to skip lunch. The Inn is on several acres, and kids can wander through the gardens. Another option, the Middlebury Inn, offers free afternoon tea.
If You Go