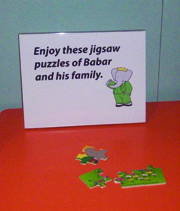 The Nassau County Museum of Art in Roslyn welcomes families with young children to enjoy the new, kid-friendly, culturally appealing Ridder MiniArtMuseum.

   The recently launched interactive museum offers curious kids the opportunity to touch and explore works of art, uncover their own creative ability and simply play in a cozy setting. Kids can get comfy on a beanbag chair and read, put on their own show at the Puppet Theater, or craft at the art activity table. The Museum also offers family gallery tours and special family events on Sundays.
   Now through May 25, the Ridder MiniArtMuseum presents Babar's Museum of Art, starring the beloved storybook character, as well as the artwork of some of the world's most famous painters—Picaasso, Degas, Goya —to name a few.
   The Ridder MiniArtMuseum for children is open Tuesdays through Sundays and is located on the grounds of the Nassau County Museum of Art, One Museum Drive, Roslyn Harbor. For admission fees and hours, call 516-484-9337.
www.Nassaumuseum.com