A Fairfield County, CT mom explains how her mixed-faith family embraces the holiday season and gives four great gift recommendations for Christmas or Hanukkah that have been hits with her kids over the years.

I am Jewish and my husband is Catholic. Prior to our engagement, we agreed I would raise our children in my religion but we'd celebrate Christmas, tree and all. Based on my relatively strict upbringing, where Santa and Christmas trees were kept at a distance, I worried that my children's religious identity might be compromised by being exposed to a holiday that was much more colorful and prevalent in society than Hanukkah.
Fortunately, our mixed household is working. My kids are able to enjoy all the festivities that Christmas has to offer while still feeling a strong connection to their own religion. They attend Hebrew school, prepare for their Bar and Bat Mitzvahs, and have a strong affiliation with our temple's community. Hanukkah is joyously celebrated in our home with family and friends spinning the dreidel and lighting the menorah, or in our case, menorahs. Each of my three kids has his/her own, which makes for a night free of confrontation.
Striking a Balance

When I was a kid, we'd receive our best gift first, and by the eighth night it was usually pencils or mittens. My husband has reversed this tradition, with pencils first and the more extravagant gifts saved for the eighth night. I let that slide.
Switching gears, and to get in the mood for Christmas, we go to upstate New York to cut down our tree. Later in the month, we'll travel by train to NYC and visit the windows at Macy's and Saks, than head to Rockefeller Center to see the tree. We never miss the craft fair at Grand Central, which has wonderful holiday gifts.
Christmas Eve and Christmas Day are spent at my husband's parents' home. My in-laws love this because their other sons spend the holiday with their families in their own homes. Having a Jewish daughter-in-law has its perks. My parents come for Christmas Eve as well and we have a wonderful evening where I can sit back and bask in the knowledge that two families from different faiths respect and enjoy one another's traditions while still maintaining their own.
Go-To Gifts

My children have received a college-education's worth of gifts over the years. Here are a few favorites (all available through www.amazon.com):
Zip Track by Discovery Toys: Snap the tracks together, switch on the battery-powered truck, and watch it plow up and down hills at a breakneck pace. (Ages 5 and up; $24.95)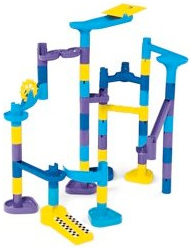 Marbleworks® Starter Set by Discovery Toys: All three of my children loved this toy, a sort of obstacle course for marbles that can be set up in different layouts. I confess, I too loved this one! (Ages 5 and up; $49.99)
Razor BoGo Pogo Stick: My daughter has probably broken some world record -- we're talking thousands of hops. (Ages 7 and up; $67.99)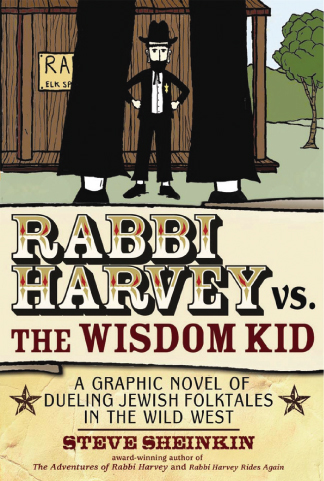 Rabbi Harvey Graphic Novels: This series of three books is less religious and more insightful with the wonderful Rabbi Harvey imparting his wit and wisdom throughout the Wild West.
(Ages 9 and up; $11.43 and up)
Karen Demeter is a Fairfield County, CT mom of three and the NYMetroParents Fairfield calendar editor
Also see: NYMetroParents' Holiday Bazaar of Traditions, Memories, Insights, and Gifts