Related: nursery school, daycare center, preschool, playcenter,




Little Sunshine Playcenter is not a nursery school or a daycare center—it's
a place where parents and caregivers "stay and play" with their little ones, explains founder, Denise DiBella,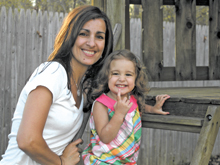 The idea for the playcenter, which opened almost six years ago, took root when DiBella's firstborn, Desiree, was a toddler. To keep her entertained, the pair participated in playgroups and library activities. DiBella kept mental notes, watching children play freely while their moms chatted nearby sharing parenting stories and developing bonds.

"One day, I looked around and thought, 'I can do this,'' DiBella explains. When her second child was ready for preschool, DiBella found a space in Sayville and forged ahead. " 'Let's do it,' I told my husband. He works a lot," says DiBella. "I really wanted to help out, and contribute to the household."

What convinced you that your business could succeed?
I didn't go to college when I was younger, but for this business I knew I knew didn't need to have a degree in childhood education and I didn't need daycare certification because the beauty of my program is that moms and dads come with their children and they stay.

What sets you apart from other playgroups?
People refer to me as the "cruise director" because I offer a lot in the hour-and-a-half classes. We go from free playtime to storytime. We'll do a craft and play with bubbles. We follow the same format every week, which is good because it gets the kids used to structure—learning social skills, how to take turns. And there is some learning. We talk about colors, shapes and numbers. And, like I said, the parents are always with their children.

How do parents benefit?
If you have an 18 month-old-child, you may not have friends with kids the same age, so my programs are broken down into age groups, so you can be with other parents and children of the same ages. Many friendships grow and it's great for moms to get out of the house and let their children run and play.

How do you juggle work and family?
I started this business because I knew I could gear it around my children's school schedule. I bring them to school, go to work and then go pick them up. My husband and my mom help me out with the kids on the weekends. My. It's a team effort.

Tell me about your work with children who are seriously ill.
I have a great relationship with the Lord. He has blessed me so much in my life. I love this business, but I wanted to bless others—to give back somehow. Then a woman booked a birthday party for her two-year old daughter. She told me she might have to cancel at the last minute though, because her daughter had recently been diagnosed with leukemia. My heart sank. I knew this was the answer. At the end of the party I told the parents the party was my gift to them. They tried to pay me, but I told them to donate the money to a children's cancer organization instead. That was the start. Now I get my information out to Schneider Children's Hospital, the Morgan Center in Plainview [a preschool for children undergoing treatment for cancer] … I look through the papers. If I see a story about a child with a rare disease, I call the family. I've given about 30 [complimentary] parties since 2003. If I can help someone going through a difficult time, it gives me such great joy. It is the best part of my business.

The Little Sunshine Playcenter is located at 299 Raft Ave., Sayville. To learn more about classes or to book a birthday party, call 631-563-7529; www.littlesunshineplaycenter.com
---
Get Your FREE Indoor Activity eGuide!
---
More Mom Biz Articles
Mompreneur Barbara Kavovit Nails a New Market
Pregnant in Heels: Mompreneur Rosie Pope
Mompreneur Rashmi Budhram's Diaper Bags Du Jour
Manhattan Mompreneur: Gigi Lee Chang, Founder of Plum Organics
You & Me Cookie: Mompreneurs Heather Mahland and Kyle de Lasa's Wholesome New Sweets Line

Be a good fellow parent and share this with a friend who would be interested
Local Mom Biz Sponsors
See Our Mom Biz Directory