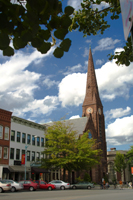 The counterculture is alive and well in the Pioneer Valley in western Massachusetts. Take Northampton, for instance. Northampton's downtown still features an eclectic mix of independent shops, used bookstores, and vegetarian restaurants.Of course change is inevitable; Urban Outfitters just opened in a former bank and there is a Starbucks. But there is also The Haymarket Cafe, which puts to rest the myth that vegans can't enjoy a decadent dessert.The vegan chocolate peanut butter cups and killer chocolate chip cookies will please the most discerning young palates; at the downstairs restaurant (with waitress service for breakfast; serve yourself at lunch and dinner) you can eat well and use the free Wi-Fi.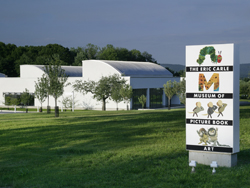 The big draw for families in the Pioneer Valley is The Eric Carle Museum of Picture Book Art. It has three galleries where you can examine works by Eric Carle and other illustrators, including Beatrix Potter, Rosemary Wells, and Chris Van Allsburg.There is also a large studio where kids can create their own masterpieces, and a library where they can read a well-edited selection of picture books.There is a café, and in nice weather you can picnic on the grounds (or bring your own food for the café).Note for Very Hungry Caterpillar fans; check out the caterpillar cookies.
   Next door, the National Yiddish Book Center has films and concerts and a gift shop where you can find that perfect Bar Mitzvah gift.
   The Pioneer Valley gives off a flannel-shirt-and-hiking-boot vibe, so you might want to get outside.Even with snow on the ground, you can hike the Norwottuck Rail Trail, accessible in Northampton and Hadley.Once the snow clears, this converted rail bed is a great place to bike.But if there is snow, Stump Sprouts Cross Country Ski Center has miles of trails and cross-country equipment and snowshoes for rent.Of course, if you were a true pioneer, you would just lash a few branches to your boots.
Where to Stay
   Most of the cute bed-and-breakfasts in the area don't take children, though the Sugar Maple Trailside Inn, in Northampton, will take kids over 10.They have a friendly cat and dog you can play with.www.sugar-maple-inn.com.
   The Hampton Inn Hadley-Amherst Hotel, in Hadley, is perfect for families, with free breakfast and a pool. www.pvhg.com.
The Details
• The Haymarket Café, 185 Main Street, 413-586-9969.
• The Eric Carle Museum of Picture Book Art, in Amherst, is open 10am-4pm Tuesday-Friday, 10am-5pm Saturday, and noon-5pm Sunday.$7, $5 ages 1-18, and $20 for a family of two adults and two youths. www.picturebookart.org.
• Children's Museum at Holyoke is open Wednesday-Saturday 10am-4pm, Sunday noon-4pm. $6 over age 1.www.childrensmuseumholyoke.org.
• National Yiddish Book Center is open Monday-Friday 10am-4pm, Sunday 11am-4pm. Admission is free.www.yiddishbookcenter.org.
• Valley Bicycle, 8 Railroad Street, Hadley, rents bicycles and tag-alongs or trailers for kids. 800-831-5437.
• Stump Sprouts, in West Hawley, charges $12 for a trail pass, $8 for ages 13-18, $5 for ages 6-12, and free for under age 6.Skis are $12 for adults, $7 for ages 12 and under; snowshoes are $7 for adults, $4 for 12 and under. www.stumpsprouts.com.
• For more info: www.amherstarea.com or
www.valleyvisitor.com
.