In these uncertain economic times, many people want to turn to a sure thing.
Mohonk Mountain House
, which has been entertaining families for 140 years, virtually guarantees a fabulous family vacation.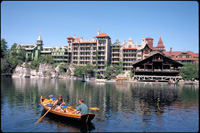 There is the small question of the price, which is certainly steep, but as hotels around the country are facing lower occupancy rates, they are offering unheard-of discounts. This winter, for example, Mohonk had rates of $140 a night, a per person cost that includes three meals a day, afternoon tea and a host of activities.  On weekends, during school holidays, and all summer, there is a free Kids' Club for ages 2-12.  Sessions in the morning and afternoon are three hours, leaving plenty of time for family bonding. There is a new Junior Naturalists program, where kids go on nature walks and learn about the environment. There are also new seasonal activities, like mountain biking and rock climbing, that appeal to teens. And in summer months, there is now a teen program, and a teen lounge. Guided hikes, open to all guests, are offered mornings and afternoons.
   If you are lucky enough to get to Mohonk when there is snow on the ground, there is free cross-country skiing, snowshoeing and tubing (equipment is provided).  There is a skating pavilion, with ice skates included, where you can warm up by the giant stone fireplace.  In warmer weather, there are 85 miles of hiking trails, the lake for swimming or boating, and clay tennis courts. 
   All year, there are free activities around different themes.  On Chocolate Weekend, for instance, chefs gave cooking and baking demonstrations, and plenty of samples were offered. Other themed weekends include music festivals, gardening workshops and photography.
   Mohonk boasts a game room, with ping-pong and foosball. You can also take a board game and play in one of the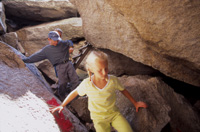 lounges, or on the porch in warmer weather; wooden rocking chairs outside or cozy couches in front of a blazing fireplace invite families to relax. The only TVs are in the fitness center (there are no TVs in the rooms). An Internet room does have three computers where you can check email, but the Victorian setting encourages you to disconnect for a couple of days.
   The luxury resort has become even more indulgent over the last few years.  A spa and indoor pool were added, and food has been upgraded.  The new fitness center has plenty of machines, and free yoga, cardio and meditation classes for ages 16 and up. On the healthier children's menu, chicken nuggets and fries are out, while baked chicken strips with crunchy baked sweet potatoes are in. More whole grains are incorporated, including whole wheat crust on the pizza and whole grain pasta. Allergens are also avoided; the children's menu is peanut- and tree nut-free, and kids can drink hormone-free or soy milk. Mohonk has also partnered with a local farm to provide fresh produce.
   Although Mohonk Mountain House is a National Historic Landmark, the resort has a number of 'green' initiatives, from a geothermal heating and cooling system in the spa to an environmentally-friendly roof, demonstrating that Mohonk is not coasting on its past. The modern spa is truly spectacular. Men and women have their own relaxation rooms, with extremely comfortable lounges and great views.  There is also a co-ed solarium, leading to an outdoor mineral pool; in winter, the stone path to the pool is heated, so you can take a soak.  Services include hot stone massage, a couple's massage for expectant parents, and a mineral body treatment using local "Shawangunk Grit." There are special services for ages 6-15 and 16-17.  If you like pedicures, the setting here is unsurpassed; relax on boudoir cushions overlooking the lake.
   The generations that have been packing Mohonk know a good thing. Here's to the next 140 years!
 For more information, go to
www.mohonk.com
.