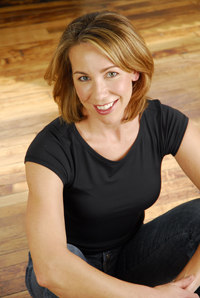 When personal trainer and fitness instructorChristine Lavin became pregnant with her first child, she realized that maternity active wear that was both functional and fashionable didn't exist.  As someone who motivated her clients to be healthy and positive, she wanted a product that would allow all women to feel good about their bodies. So in 2008, Lavin launched her maternity active wear line, FIT2BMOM, available in stores nationwide. Here she talks about how she made her way as a mom and entrepreneur.

Quick stats:
   Married for seven years to Sean, Christine has two sons, JP, 2 1/2, and Owen, 1 1/2. 
What was your previous career?
   I had worked in corporate sales and marketing for 12 years. In 2003, Sean and I moved to Washington, D.C., and I got the entrepreneurial fever, so I left the corporate world and went into the fitness industry. I wanted to open my own fitness studio so I became an instructor and personal trainer. I really liked the teaching part of it but I didn't want to be committed to the cost of a studio.  I also didn't realize that I needed a full client base on day one, and that would take years to develop.
How did you get the idea for FIT2BMOM?
   I got involved with a small women's golf apparel company and I worked with them briefly to help write the business plan. I was still training clients when I became pregnant with my first son and had an 'ah-ha' moment. I realized there really wasn't anything out there for women to wear while they were exercising during their pregnancies. There was so much directive coming from the medical community saying that not only was it okay to exercise, but that you should do it every day. Women were paying $180 for Seven maternity jeans and Diane von Furstenberg maternity tops, yet we're supposed to wear unflattering clothes when working out.
So you identified a void in the marketplace?
   When I did my research, most of women's apparel was stagnant, but there were two spikes. One was the maternity market and one was women's active wear. Athletic wear had become less fitness-based and more all-around lifestyle. So it was taking the data and creating a product that would validate it and encourage women to not only be fit for their pregnancies but also be fit afterwards. If there's something that makes you feel good — and exercise has always made me feel good — then try it out. And that's where my mantra, "Feel positive from the inside out," came from.
How long did it take to get the idea off the ground?
   Like most moms, I thought I would have all the time in the world after I had my first son. I had done so much research but I just couldn't get going because my background wasn't in apparel. The idea kept haunting me so I decided that I had to at least get samples made and try them out, and then I would know if it was an idea I could do something with.  I found a designer and she helped put all of the pieces in place and find the other people that I needed. I took storyboards to some of the maternity showrooms even before the samples were made.  One of the showrooms decided to represent my line right away.
What is the biggest key to your success so far?
   An incredibly supportive husband. Kids don't understand that you have a deadline, or they get sick, but things still need to get done. Having a spouse who is encouraging from a family perspective makes the biggest difference.
What advice do you have for moms who have an idea but don't know how to get started?
   It sounds so cliché, but you have to trust your gut and then try it out. Especially with the economy, you can't read any newspaper without it being doom and gloom, so there are always going to be forces against you that will tell you why the business isn't viable. That doesn't mean you should just throw money up in the sky, but I think you have to be smart and take risks that are appropriate for your life. Also, surround yourself with people who are smarter than you. I knew it would be good to have people who knew the ins and outs of the apparel industry because I didn't. They should know things that you don't and that's the fun of it.
How do you find work/life balance?
   It's embracing flexibility and understanding that every day you can have a plan but that plan can change at any minute.  I think there's a sweet spot that every woman has to achieve when they're trying to run a business and manage a family, and that spot is different for everyone.
What's next?
   I would love to build the FIT2BMOM brand into something bigger that goes beyond maternity.
   For more information about FIT2BMOM, visit
www.fit2bmom.com
.