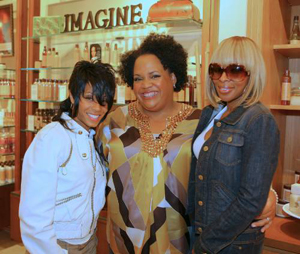 In the early '90s, when Lisa Price was working on production for "The Cosby Show," she enjoyed experimenting in her kitchen with essential oils and creating her own fragrances and lotions just for fun. When her mother, Carol, suggested Price sell her body cream at a local flea market, and she sold almost every jar, her hobby turned into a business. Today that business is the multimillion dollar beauty brand, Carol's Daughter®. With nine stores nationwide, products sold in Sephora, Macys, Dillard's, and HSN, and her memoir, Success Never Smelled So Sweet, Price has proven that humble beginnings can lead to a dream come true.
Quick stats: Lisa lives in Brooklyn with her husband of 18 years, Gordon, and their three children: Forrest, 14; Ennis, 12; and Becca, 3.
When you were working on "The Cosby Show," Phylicia Rashad said you should open a business. What was your reaction?
She actually said that if I ever did make it a business to let her know. I was very touched by that because at the time it was very much a hobby. I thought 'Oh she's so sweet,' but I didn't really give it any thought.
How did your childhood affect your love of fragrance and beauty?
I remember very early on being in love with fragrance. My grandmother had Chanel N°5 on her dresser and she only put it on when she went to church on Sundays. I couldn't understand why she didn't wear it every day because I thought it smelled so pretty. My other grandmother had lots of perfume and she would keep them in their boxes as if she were saving them for special occasions.
How did mixing fragrances become a hobby?
I was out in Park Slope one afternoon and I found a book on essential oils. It was actually the first time I learned the difference between essential and fragrance oils. I started learning that different essential oils had different properties and started putting them to practical use within my life-using oils to help me relax or treat an upset stomach.
What made you decide to take the leap?
I had been making products for a number of years and gave them as gifts to friends and family. My mom told me about a flea market at her church and encouraged me to sell my body cream. I think my uncle was making T-shirts and someone else was making carrot cake, and I thought, 'Worst case scenario, I'll have a nice Saturday afternoon with my family.' I didn't think I was actually starting a business. What surprised me was that almost every jar I made sold.
I got a flyer for another flea market and I thought 'I'm not doing anything that day, I can do this again.' I spent that summer doing different flea markets and craft fairs and realized I was on to something. When I went back to work, I had a small client base that was calling for replenishment. I looked at it initially as a second job and thought that whenever I did become a mom, maybe this would be a way that I would be able to work from home. When I quit [my television production job], part of the reason I quit was because I had this business. It wasn't feasible to be a new mom and work two jobs.
What were the steps involved to getting it off the ground?
I set up a store environment in my house and I operated organically for a number of years. We didn't open our first store until 1999 and we didn't get a business loan until 2001 and that was to help renovate a warehouse so that we could move some of the business outside our home.
How did Carol's Daughter® get noticed by Halle Berry and other celebrities?
I actually don't know how Halle found out about us initially. She reached out to us to purchase products for Oprah-she was giving her a gift. She heard that Oprah loved Carol's Daughter® or wanted to try it. I don't know how Oprah initially heard about it either [laughs].
Why did you choose Mary J. Blige and Jada Pinkett Smith to be the faces for the brand?
In laymen's terms, they're "spokes-beauties" but they're more investors who lend their images as part of their support. They're such great examples of working hard, and not just "rags to riches," but self-discovery. They're both very open about the demons they've had to deal with in their lives and I think that it's a side of beauty that we don't usually see.
What were some challenges along the way?
I think the best thing I can do for my business is to stay out of my own way: don't let my insecurities be the business' insecurities.
What was the biggest key to your success?
The support I have from my family and the fact that I can go home at the end of the day and have a normal life. I can just be Mom and then come back and do what I have to do.
What's one piece of advice you have for a mom who wants to launch her own business?
To be forgiving of yourself, because you're a mom and that's a hard job. If you think of your business as another one of your children, it makes it a little easier. Don't feel guilty about building something for your future and their futures.
How do you manage work/life balance?
I've given up on balancing it. Something has to suffer for you to take care of something else, because they both need you all the time. My balance is more about finding the moments.
For more information about Lisa Price and Carol's Daughter®, visit www.carolsdaughter.com.