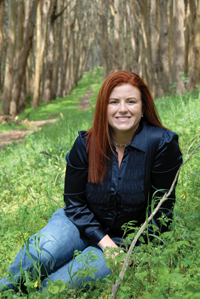 One day in 2005, Kara Goldin's young daughter reached for a sugary juice. When Kara - then an executive at AOL -suggested her daughter pick something else, she opted to have what Kara was drinking: water with lemon slices. Kara was struck with an idea, and realized that this new beverage would be great for kids and adults. Shortly thereafter, HINT was born. Pure water with natural flavors, HINT has no sugar, artificial sweeteners, preservatives, or calories. More than four years later, Kara has developed HINT into a multi-million dollar company and recently launched HINT Kids with fluoride. HINT has exclusive partnerships with Disney and has found product placement on hit shows like Grey's Anatomy, Boston Legal, and CSI. HINT has also become the newest celebrity obsession, with stars like Victoria Beckham, Miley Cyrus, Sarah Michelle Geller, and Colin Farrell as fans.
Quick stats:
Kara has been married to Theo for 14 years and they have four children between the ages of 3 and 10.
Q. Tell me about the early days of HINT.
Once I had the vision that HINT could be done, I had a lot of people saying to me, "You're crazy! Why would you launch a beverage when there are so many beverages already out there?" But I felt like I had to do it and it was almost my responsibility. I had this calling to be able to do something that could really change the beverage environment.
Q. How did you get HINT off the ground?
I figured out how to actually create all of the ingredients and then I Googled around to find out who makes the caps and the bottles and who handles production. I thought, "Let me just start this thing and even if doesn't become a multi-million dollar company, I'll still have it." My first orders were delivered out of my car. Now we're up to over 20 employees, and we have trucks and distributors. I often tell people starting businesses that if you over-think the process and don't just go and try it, then you'll never do it.
Q. Did you surround yourself with people who had knowledge about business that you didn't?
My husband (and COO of HINT) was an intellectual property attorney so he helped me make sure that HINT and our tagline, "Drink Water, Not Sugar," were trademarked. He also helped me figure out the operations side because I clearly was much more of the entrepreneur and had the vision. We enlisted someone whom I worked with at AOL to help us - a jack-of-all-trades - and he's still with the company. I worked with a number of consultants but I found that they would sometimes over-think things and I thought, "Let's just go out and try it." Yet four years later we are hiring experts to help us grow.
Q. What were your roadblocks or challenges along the way?
Distributors are really the gatekeepers and a lot of stores want to go with the big drink companies, so this is always challenging for us.
Q. What has been the biggest key to your success?
We're always moving. Everyone on the team is always selling and talking about the brand. Making people aware that just because you're drinking something doesn't mean you're going to be hydrated is key.
Q. What's your most important piece of advice?
In a few years, if you think you're going to regret that you didn't do it and it's not going to break the bank, go try it.
For more information about Kara Goldin and HINT, visit www.drinkhint.com.