Cheryl Hines, who plays Larry David's wife in HBO's Curb Your Enthusiasm, also stars in RV, just out on DVD. In the movie, she plays a put-upon mom who reluctantly takes a road trip with her husband and two kids. In reality, Hines, the mother of a 2-year-old Catherine, takes very few driving vacations, preferring to travel by air, these days with frequency. Although the Los Angeles-based performer confesses that she has yet to bring her daughter to New York, "since I can't figure out the car seat in the cab thing."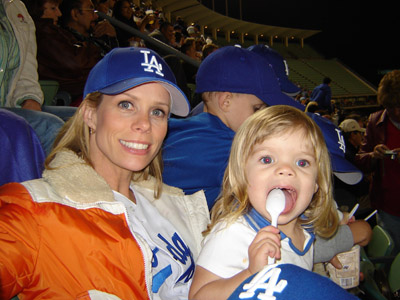 Catherine already has well-formed preferences, says her mom, and shows a remarkable affinity for marine life. In fact, Hines reports, while her daughter knows Are You My Mother? and various Dr. Seuss books word for word, she would usually prefer to hear about marine mammals of North America.

Catherine's love of oceanography has already figured into family vacations; Hines and her husband, Paul, have taken their daughter to Sea World in Orlando, and aquariums are usually on the itinerary whenever Mom is filming on location.

Catherine has also taken like a fish to water, and Hines proudly relates that the toddler goes to swim classes and is learning to hold her breath under water and to swim to the ladder of their backyard pool.

Hines takes Catherine and a nanny with her when working on Curb or when shooting a movie, but says she makes it a priority to spend time with her daughter, noting that "it takes a lot of scheduling and planning."

Although the family lives in an area of Los Angeles that Hines says is filled with 'show biz' people, she insists that the family leads a rather typical life; noting that the local playground is always full of families. On weekends, Hines plays Regular Mom, making dinner for family and friends.

Hines grew up in Florida. She joined The Groundlings when she first went out to L.A.; this is the famed improv troupe that has graduated such performers as Jon Lovitz, Pee-Wee Herman, Kathy Griffin, Lisa Kudrow, Will Ferrell, Ana Gasteyer and a host of other SNL regulars. Hines has been nominated for an Emmy Award, including Best Supporting Actress for Curb Your Enthusiasm.

But she says what's more important "is that I have to keep reminding myself when I've had a busy day or busy week or am stressed about something — check it at the door. There is no place at home for it."

Luckily, her sense of humor remains intact, no matter her location.