Barbara Kavovit, founder of Barbara K! Enterprises and Barbara's Way, empowers women in the home with DIY advice, tools, and more, and she's turned her passion for home improvement into a multimillion dollar business.
Quick Facts: Barbara Kavovit is divorced and lives in Manhattan with her son Zachary, 13.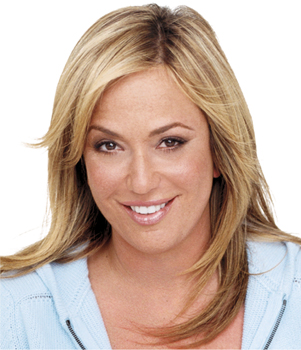 After working for 10 years as the founder and chief executive of one of the largest female-owned construction companies in the city, Barbara Kavovit assessed that the female demographic was largely underserved when it came to home improvement. She launched Barbara K! Enterprises, a line of home improvement tools, kits, accessories, and do-it-yourself guidebooks made specifically for women - an idea she has turned into a multimillion dollar company.

In her newest venture, Barbara's Way, Barbara has teamed up with Stanley® and Isotoner® to create a large array of home improvement products through which she is able to further her mission of empowering women to be self-sufficient. A recognized expert in the media, Barbara is the exclusive home improvement expert for AOL Coaches series, the author of two books, and a NY Post columnist.
Where did your passion for construction come from?
The first time I recall ever feeling empowered was when I was 9. My family lived in the Bronx, and my sister and I shared a room. My dad wanted to give us more space, so he came home with a bunch of 2x3s and said, "You're going to help me build these bunk beds. I want you to take the hammer, and I'm going to hold the nail, and I want you to start hammering the nail into the wood." I thought it was such a strange request coming from my dad - but that bonding experience and that sense of accomplishment was such a driving force in my development.
How did you get into renovation and construction?
I was 21 and I had just graduated from college and moved back home. My mom and her girlfriends were sitting around the table and they were talking about how the contractor never showed up and they'd been asking their husbands to get things done, but the husbands would always say they would get around to it. I thought that they should know how to do things themselves, so I came up with the idea of marketing home improvements to women. I made up some business cards. I would introduce myself as women came out of the grocery store. I would ask them if there was anything they needed done in their homes, and every single woman would say "Yes!" I would match the tradesmen that were advertising in the local paper with the women who called me. I would call the carpenter, for example, and tell him we would have to fix a door that's off the hinge. They would come to the job and say "This is going to cost $100" and I would charge the homeowner $150. That's how my business was born.
How did your inspiration for Barbara K! come about?
I was watching an episode of Sex and the City where Samantha had just moved into a new apartment and was trying to hang curtains but they fell down on her head. I realized that most women don't know how to do their own home repairs by themselves. Even I, owning a construction company, was very intimidated living alone with a small son. I just never wanted to be in a position to be dependent on somebody else.
How did you know it was a viable idea?
I did a lot of research and I found out that the size of the market was a 240-billion-dollar business at the time. And of that, there's about 90 billion dollars-worth that are purchases made by women, yet there was nothing for them to buy. I also realized there was nobody else out there who was an expert or authority in this genre.
How did you know what steps were involved to get your business off the ground?
I didn't! It's like the law of averages: You talk to as many people as possible. When people were able to see my passion and hear my presentation and the fact that I was a divorced woman of a son, it kind of all fit into place.
Did you face a lot of adversity in the beginning?
God, yeah! Being in construction as a woman, people immediately want to know if my father or brother was in the business or who I was a front for. It's not an overnight success. It takes many years of working, focusing, being patient, and proving yourself.
What do you wish you would have known before you started?
That success takes 15 years! But you can't think that it's going to take forever, because if you worry about success, then you might never know where you're going to get to.
What's one piece of advice you have for a mom who wants to launch a similar business?
Start small. If you have a job and still bring in a little bit of income, you can use that to fund your business venture in a very small way. Make a two-page plan of your ideas, and look at your demographics. Join some local businesses and networks and start writing a piece in the local paper about your craft. You just have to stay focused, take classes, get as much as information as you can - and believe in yourself.
How do you manage a work/life balance?
I get my son involved as much as possible. I would ask him to create some ideas that he had and now he has his own sketchbook with a number of ideas. When I'm out for a meeting, he knows that I'm working and when I get home I'm going to tell him all about it. I try to do things around his schedule, and I'm always home to make him dinner.
What's next?
My goal is to be the Martha Stewart or the Oprah of the home improvement sector. I'm working on both a TV show and another book.
For more information, visit www.barbarak.com.
Also see: Pregnant in Heels: Mompreneur Rosie Pope
Mompreneur Rashmi Budhram's Diaper Bags Du Jour