Fourteen months ago,
Laura Deutsch
was a brand-new mom in Manhattan.  She had given up her job as a high school math teacher, and she was feeling isolated.  "I was the first of my group of friends to have a baby; Ava was three weeks old, and I was thinking, 'Where do I go to connect with other moms?'"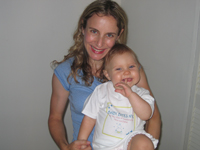 She found Ronni Soled's New Mothers Luncheons.  For the past 16 years, Soled's groups have been meeting over lunch in the back rooms of various Manhattan restaurants to make friends, share parenting tips and babysitters, and listen to expert speakers discuss everything from how to get baby to sleep through the night to when to start booking tours at nursery schools.  Deutsch enjoyed the luncheon experience so much that she started her own version, called
Baby Bites NYC
— and even added an extra component: a monthly dinner in Soho for expectant moms.
   Now Deutsch is in Westchester; she and her family (baby Ava, and dad, Brian, who owns two Sylvan Learning franchises) just moved to Larchmont, and she has wasted no time in starting up Baby Bites in the 'burbs.  Her first luncheon — the first in a regular schedule of Friday luncheons — will be held this month at Palmer's Crossing in Larchmont, with Music for Aardvarks making a guest appearance.
   These are luncheons for moms, not nannies; moms with babies up to a year old are welcome. Lunch includes dessert and coffee, and future events will feature guest speakers, raffles and giveaways. Deutsch expects that discussion topics will vary little from city to suburb; she believes moms' concerns are universal.
   And things have come full circle in the city as well.  Rather than abandoning Baby Bites NYC, Deutsch and Ronni Soled have joined forces and merged their luncheon businesses. Deutsch is commuting into the city Monday to Thursday to run luncheons with Soled's help; Fridays, she stays local to focus on the Larchmont luncheon.
   Deutsch says she will gradually expand in Westchester.  "I was very nervous about moving out of the city," she admits.  "But I'm pleasantly surprised at how much I like it here.  When we lived on the Upper West Side, I was out all day till about 4 or 5, then Ava and I would be home for the evening.  I find that's just what I'm doing here, too, so I don't feel my life has changed all that much.  And I love my five-minute walk into town!"
   The first Baby Bites lunch will take place on December 9, 2006, from noon till 2:15pm.  Cost is $30 in advance, $35 at the door (babies are free). For more information, go to
www.BabyBitesNYC.com
.  To make a reservation, call or email Deutsch: (646) 258-3907;
[email protected]