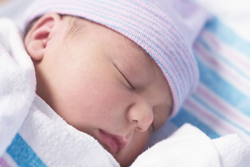 The results are in for 2009: the most popular baby names chosen by parents in North America this year were Aiden and Madeline, according to a December 9 press release from Name Your Tune, a personalized children's music compilation company. Name Your Tune also announced Wednesday that the top baby names of the 2000-2009 decade were Jacob and Emma (see complete list below).
A common trend seen over the past few years has been the increasing variation in the spelling of common names - for example, Aidan has also been spelled Ayden, Aidyn, Aden, and Aaden, while Madeline can be spelled Madeleine, Maddelin, and Madalen - said Candace Alper, Name Your Tune's creator and executive producer. "Parents like the sound of traditional names, but they also want to show the individuality of their children," Apler said in the press release. "Parents realize that the name they give their child will become part of the child's identity."
Variations of the name Aiden - including Jayden, Brayden, Hayden, and Caden - are also dominant in both the girls' and boys' category because they are gender neutral, Alper said. And celebrity names are, of course, popular as always. "We're making [more] orders for girls named Taylor than ever before, possibly because of the massive success of singer Taylor Swift," Alper said, adding that they hadn't had any requests for the name "Kanye."
In that vein, Alper said she predicts many babies bearing the names "Edward" and "Bella" to pop up in 2010 and beyond, due to the success of the Twilight book/film series.
TOP BOY NAMES OF 2009
Aiden/Aidan/Aden
Matthew
Owen
Ethan
Jackson
Evan
Braden/Braeden/Brayden
Noah
Jack
Zachary
TOP BOY NAMES OF 2000-2009
Jacob
Michael
Ethan
Christopher
Jack
Daniel
Zachary
William
Joshua
Ryder
TOP GIRL NAMES OF 2009
Madelyn/Madeleine Madelynn
Madison
Emma
Hannah
Olivia
Audrey
Isabella
Grace
Taylor
Emily
TOP GIRL NAMES OF 2000-2009
Emily
Madison
Emma
Hannah
Olivia
Samantha
Ashley
Ava
Elizabeth
Alyssa