What better surprise on Mother's Day morning than breakfast in bed? And it's even better if the kids have prepared it. Here's a food craft that you can set up in advance and the kids can have fun with on their own. Then, when they serve up their creations, you can all share a tasty meal and a good laugh!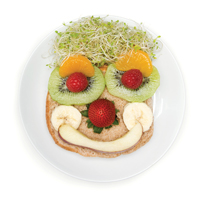 Ingredients
Half of a bagel
Low-fat cream cheese or Neufchatel cheese
Carrot circles
Cucumber half-slices
Cherry tomatoes
Thinly sliced red peppers
Thinly sliced green peppers
Black pitted olives
Green pitted olives
Alfalfa sprouts
Bean sprouts
Celery slices
Directions
Spread cream cheese thinly over your bagel. Then have fun using the vegetables or fruits (pictured) to make funny faces you can eat!

For more kid-friendly recipes, visit www.freshdirect.com. 

Excerpted from The American Cancer Society's Kids' First Cookbook. Reprinted with the permission of The American Cancer Society. All Rights Reserved.