A new documentary by Doug Block delves into the anxieties and uncertainties of leaving for college - from a parent's perspective.
Young Lucy plays on the sidewalk near her home in Stuyvesant Town in a scene from The Kids Grow Up.
A tiny, dark-haired ballerina, covered in pink from head to toe, twirls and pliés in the kitchen of her family's Manhattan home. It's just a regular day in the life of little Lucy Block, but her father can't bear to let it just fade away - video camera in hand, he captures every spin, misstep, and sweet 7-year-old smile. Fast forward 10 years, and that little dancer is a 17-year-old senior in high school, preparing to leave home for a college across the country.
Thus opens The Kids Grow Up, a new documentary premiering October 29 at the Angelika Film Center in Manhattan.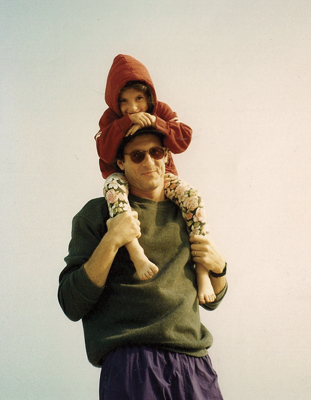 The film follows the Block family - daughter Lucy (now 21), father Doug, and mother Marjorie - in the year leading up to Lucy's departure for Pomona College in California. Though it focuses on this critical transition period, the documentary was almost 20 years in the making: Dad Doug, a documentary filmmaker and Long Island native who was recently acclaimed for his film 51 Birch Street, began documenting his family when his only child, Lucy, was born.
"I think I'm the first of many to come who have documented their kids from very early on. But it wasn't until Lucy was about to leave home that I was able to frame the film," Block says. "A child going away to college is a completely universal story. One day you wake up and you go, 'Where did this all go? In a year she'll be out of the house.' As a parent, you try for so long not to think about that. Everything you're doing is preparing your kid for leaving, so she can have this great life independent of you, and yet the last thing you want to think about is when that time comes and your kid doesn't need you anymore."
We sat down with the father/director to find out what it was like to produce this labor of love.
Q. Did making the documentary help you accept Lucy leaving?
DB: Yes. For the next two years it gave me something to focus on, and it was sort of a way to work my feelings out. I understand I'm going through an experience a lot of people go through - it's a common life experience for children and parents. But it's a very intense and emotional transition period that we don't pay much attention to. That is, it's not commonly dealt with in fiction films or books, and it's never dealt with from a parent's perspective.
How does your family feel about the documentary and their role in it, now that it's coming out in theaters?
My wife is totally fine with it. The whole scene with her depression wouldn't be in there unless she thought it was nothing to be ashamed about. She's made it her mission to de-stigmatize depression and mental illness, so she's eager to go out with the film. She's also really happy that she comes across so wise. The first rule when you make a personal film: Make your wife and daughter look good [laughs].
With Lucy, she doesn't see herself that objectively. She gets hung up on things, like when Marjorie and I talk about her sleeping with her boyfriend. She's tried not to think too much about it. But she trusted that I wouldn't put in stuff that made her look silly, and I told her she would be the first to see the film. I'm amazed she let me shoot it, and totally grateful and appreciative that she let me finish it.
What was Lucy's reaction when she saw the film?
I gave her the opportunity to pull the plug on it before I even began editing. I waited until she was 18 because I wanted her to sign the release forms as an adult. I said, 'If you feel like this is going to negatively impact your life, now is the time [to stop it].' She saw it, and she said, 'No, I think it will be a good film,' and signed.
I tried to be a father first and a filmmaker second. Well, I tried to balance the two, but I always knew I had to be a father first in the end. She knows in the near future she'll be grateful that she has this as a kind of record of her family and her childhood. It's only now that she's getting this perspective, and that's what I hoped she would do in the end.

I like how you juxtapose your parenting style with your dad's throughout the film. Can you talk about that?
I thought it was interesting to see changes in attitudes toward parenting in generations. When we went off, our parents said, 'Here's the car keys, go get a job.' It was laughable that they would be so attached to us. And [now] we just cling to our kids. In terms of parenting in general, specifically fatherhood, men are coming around now and becoming much more involved fathers, more than even me. It's a very interesting shift.
If you had to choose one scene from the film as your favorite, which would it be?
My favorite scene is the one...where Lucy gets her driver's license, and we flash back to her getting her ears pierced. When she's in the car, I ask her if she feels different, when her ears are pierced, and she says 'I feel like my whole life has changed!' I've always wanted to include that in a film. When Lucy was waiting for her driver's test to begin, her excitement and nervousness reminded me of when she was getting her ears pierced. That's the best example of the way memory comes in and out of the movie. It feels really organic, and it puts the audience in my own mind, in a way.
I like the idea that most parents, when they tape their kids, it's some event like a school play, playing sports, or graduation - the typical things parents would film. But these are the things that are really life-changing, these small moments. She was only seven when she got her ears pierced, and she was like, 'Wow, I'm a grown up now!' It was a profound transitional moment to get on camera.
What message do you want audience members to walk away with?
All people relate to these films [documentaries] in such different ways. When I was making this I thought parents would find it really interesting. But we found that people in their 20s and 30s relate to Lucy and her situation because they remember what that time was like for them.
What I'm finding so far is people telling me they immediately want to call their kids, or they want to get out a camera. Many say, 'I really want to call my parents.' I don't make films like this to make points or even have people thinking about big, large themes. If they come away with it wanting to talk to their kids - mission accomplished.
Visit www.thekidsgrowup.com for movie trailers and extras like a post-film interview with Lucy and other family members, a discussion forum for parents, and more.